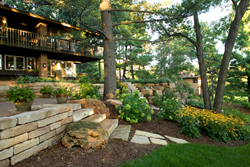 "We have a lot of experience in creating robust northern landscapes that will thrive and grow, even in the most challenging Minnesota winters," said Karen. Filloon, landscape designer with Southview Design.
Minneapolis, MN (PRWEB) June 23, 2014
Native plants and low maintenance landscapes are quickly growing in popularity, particularly among homeowners in Minnesota, according to Southview Design, a landscape/design build firm in Inver Grove Heights, Minn.
"Minnesotans may even lead some of the national trends in landscape design, such as the inclination toward using native and drought-tolerant plants and reducing lawn space for a low maintenance landscape," said Karen Filloon, a landscape designer with Southview Design. "We are also keeping up with the national trend to create outdoor living rooms, even though our season is shorter than in other parts of the country."
Sustainable and low-maintenance design is rapidly growing in popularity, according to the 2014 Residential Landscape Architecture Trends Survey conducted by the American Society of Landscape Architects. Landscape architects who specialize in residential design across the country rated the expected popularity of a wide variety of residential outdoor design elements.
The interest in low-maintenance landscapes increased to 95 percent, with the majority interested in native or drought-tolerant plants (88 percent – up from 83 percent in 2013), food/vegetable gardens (76 percent) and organic gardens (64 percent). Sustainable landscape elements such as drip/water-efficient irrigation, permeable paving and reduced lawn are also gaining favor with homeowners.
"Our designers have a lot of experience in creating robust northern landscapes that will thrive and grow, even in the most challenging Minnesota winters," Filloon said. "From the trees we plant to the walls, steps, driveways and patios we build, we want our customers to enjoy spaces that are both stylish and sustainable," Filloon said.
While consumer demand remains strong for residential landscapes that are conducive to entertaining and relaxing, the survey indicates that functional priorities for outdoor landscapes have shifted slightly from last year. Outdoor living spaces with kitchens and entertainment spaces are still very popular, with a 92 percent rating. But compared to 2013 when outdoor kitchens ranked highest, gardens and landscaped spaces were the most popular in 2014, with a 94 percent rating. Outdoor recreation areas came in third at 76 percent.
Living in the land of 10,000 lakes, Minnesotans also mirror the national trend to favor decorative water elements such as waterfalls, ornamental pools, and splash pools, which received an 86 percent popularity rating, Filloon said. Spas (76 percent) and swimming pools (74 percent) are also popular among homeowners.
The vast majority of respondents (98 percent) rated lighting highly in 2014, and consumers also wanted outdoor seating/dining areas (98 percent), fire pits/fireplaces (95 percent) and grills (94 percent). Installed seating (90 percent) such as benches, seatwalls, ledges, steps and boulders as well as garden structures, terraces, patios and decks (98 percent) were high on their list. Fencing (89 percent), pergolas (82 percent) and decks (82 percent) also rated highly.
"A beautifully designed landscape usually increases the satisfaction and joy people have in their homes," Filloon said. "When you go to sell, it adds to the property value and can contribute to a faster sale."
The survey was conducted during January and February of this year, with 179 responding. For more information, visit The American Society of Landscape Architects.
For outdoor landscaping ideas and to schedule a free consultation, visit Southview Design at http://www.southviewdesign.com.