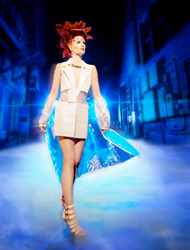 Collaborating with another person may sound like an intimidating or stressful concept, but when done right, it can be the start of a great business endeavor. - Jessica Faith Marshall
Austin, TX (PRWEB) June 27, 2014
The Fashion Entrepreneur Series on FashionMingle.net recently featured 14-year old fashion designer Jessica Faith Marshall. In her article, the fashion maven provided readers with best practices for working with other experienced designers to create successful fashion collaboration projects. Marshall encouraged readers to adhere to the age-old adage of two heads being better than one.
In the article, Marshall offers 5 key tips for creating a lucrative fashion design collaboration project. Such factors include working with fashion industry professionals with the same or more experience as you, how to approach disagreements, and outlining a design plan prior to executing a project. "Anytime you participate in a labor-intensive collaboration, you should always have a solid plan before diving in," said Marshall about the process of starting a collaboration project.
When scouting a design partner to collaborate with, a fashion industry professional of the same caliber is important. In order to expand your current audience and reach a new buying demographic, the key to this kind of collaborative effort is working with a designer who's just as diligent in the creation process as you are. "Since you are partnering with another talent, you are associated with them," Marshall said, "If they are not at the same level of talent as you, it will be harder to bounce ideas off of each other."
Disagreements between creative professionals are inevitable. Marshall explained that speaking up for your ideas is necessary in order for both parties to be satisfied. Leaving or finishing a project without having given your input is a sure way to have regret about the experience and loose a potentially great opportunity for success. "Don't shut out every one of your partner's ideas, but don't lie about your opinion. It will represent your company poorly, and you will leave the collaboration with regrets because you were too frightened to be honest".
Jessica Faith Marshall is a fourteen year-old designer who designs collections that feature menswear detailing and contemporary style. She is the Founder and Director of the fashion line Faith by Jessica. She has been featured on the runway at Austin Fashion Week and she was the winner of the Susan G. Komen Project Pink Design Competition. Shop her collections and follow her style updates at faithbyjessica.com.
About FashionMingle.net
FashionMingle.net is a network for fashion entrepreneurs to share, discover, and mingle. The business directory and social network creates a PR platform for fashion entrepreneurs to promote their services and grow their business. More information can be found at FashionMingle.net.