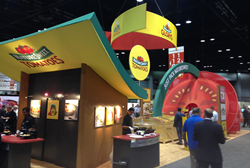 NatureSweet Cherriots® gained much attention at United Fresh for its innovative packaging, small size and extraordinarily sweet flavor.
San Antonio, Texas (PRWEB) June 20, 2014
United Fresh held its annual convention from June 10th to the 13th, and NatureSweet® Tomatoes made an impressive appearance to showcase its growing variety of nature's sweetest snack: small tomatoes. United Fresh guests were excited to see NatureSweet's stand-out booth and taste the products of the nation's number one producer of premium, branded and best-tasting tomatoes.
Because NatureSweet Tomatoes are greenhouse grown in a protected environment, each variety of tomatoes has superior taste, texture and freshness. NatureSweet grows its tomatoes for taste, not yield, so each tomato is carefully raised and harvested for a product that outshines the competition.
At United Fresh, the uniqueness of NatureSweet tomatoes was evident in its award-winning booth display that could not be missed. With a tomato-shaped conference area and lines of their cleverly packaged tomatoes displayed on rustic crates, guests were enticed to see how NatureSweet is changing the face of fresh tomatoes.
Their newest product, NatureSweet Cherriots® gained much attention for its innovative packaging, small size and extraordinarily sweet flavor. This variety of specially grown micro-produce is packaged in a convenient pull-apart 3-pack, making them the perfect on-the-go healthy snack that is meeting the increasing consumer demand.
"Studies show that adults eat almost half of their food between meals," said Michael Joergensen, Marketing Director of NatureSweet. "At the same time, consumers are demanding healthier options to take with them to the office, school, or wherever they go. Cherriots are perfect for those who want to maintain a healthy diet when they're away from home. It was great to see such a positive reaction to Cherriots and all of our products at United Fresh."
The full-line up of tomatoes were displayed and distributed for tasting at the convention:
NatureSweet® Cherubs®: Heavenly salad tomatoes. Each bite-sized fruit adds the perfect amount of sweetness and color to salads.
NatureSweet® SunBurstsTM: These golden tomatoes are even sweeter and juicier than regular cherry tomatoes, making them ideal for snacking.
NatureSweet® GlorysTM: The "biggest" of the small tomatoes, these beauties are ideal for cooking and the perfect fresh ingredient for a variety of dishes.
NatureSweet Chef Ali Mendez Clayton served up tasty dishes to United Fresh guests. Those who stopped by NatureSweet's booth enjoyed Margherita Pizza made with NatureSweet Glorys, as well as Firecracker Salad with shrimp featuring Cherubs.
Small tomatoes are the fastest-growing part of the tomato market in the country. Once practically unheard of and hard to find, small tomatoes now make up 32 percent of the fresh tomato market and are climbing. More than 75 percent of tomato consumers say they prefer small tomatoes.
"At the pace the small tomato market is growing, produce retailers should be dedicating at least half of their shelf space to small tomatoes," said Joergensen. "That's why we've designed our packaging to not only be easy for the consumer to keep at home, but also easy for the retailer to display. Our products really pop in the produce aisle and the packaging maintains freshness."
If you missed NatureSweet at United Fresh or would simply like to learn more about its variety of small tomatoes, media should reach out to the media contacts listed below for more product information.
To find out more about NatureSweet, please visit NatureSweet.com.
About NatureSweet®
NatureSweet Ltd. is the leading grower of premium, branded, best-tasting fresh tomatoes in North America. Always vine-ripened and hand-picked at the peak of freshness, only NatureSweet® tomatoes guarantee great taste all year round. NatureSweet tomatoes are carefully grown, harvested and packaged by more than 6,000 full-time associates, and are sold at major grocers, mass retailers, club stores and food service operators in the United States, Canada and Mexico. Known for award-winning quality and innovative packaging, NatureSweet is also committed to having a positive social, environmental and economic impact on the communities in which they operate. NatureSweet Cherubs®, SunBursts®, Glorys™, Cherriots™ and Jubilees® are trademarks of NatureSweet Ltd. For more information about NatureSweet tomatoes, visit http://www.naturesweet.com.
MEDIA CONTACTS:
Jeremy Belitsos
McFadden/Gavender
O: (520) 882-6262
M: (520) 332-3732
jeremyb(at)mcfaddengavender(dot)com
Alexis Kieft
McFadden/Gavender
O: (520) 882-6262
M: (520) 909-7343
alexis(at)mcfaddengavender(dot)com
Website:
NatureSweet.com
###