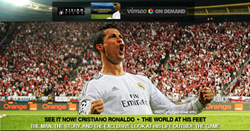 New York (PRWEB) June 21, 2014
Just in time for the World Cup, Vimeo has announced a new partnership with Vision Films for the global release of a documentary of famed Portuguese soccer player and Laureus Award nominee Cristiano Ronaldo exclusively on Vimeo On Demand, giving fans worldwide instant access to the film.
The documentary, "Cristiano Ronaldo: The World at His Feet," narrated by the talented and award-winning actor Benedict Cumberbatch, follows the life of Ronaldo from his humble upbringing to becoming the star player for Real Madrid and leading his Portuguese team to the World Cup. The film features appearances and interview footage from the likes of David Beckham, Pele, Sir Alex Ferguson (Former Manchester United Manager), Jose Mourinho (Chelsea Manager), Lionel Messi, Wayne Rooney, Gary Linekar, Sir Bobby Charlton, and an exclusive interview with Ronaldo. It is produced by Tony Taglienti of Stax Entertainment and produced and directed by Tara Pirina of Future Sight Entertainment.
"This truly unique look into the life of an iconic footballer and the icons which were influential to his success was just completed last week," said Lise Romanoff, Managing Director and CEO of Worldwide Distribution. "Vimeo On Demand is that rare VOD Platform that provides Distributors with the control, support and tools to release this film directly to the consumer in a record amount of time!"
"We're excited to work with Vision Films and host the worldwide premiere of Cristiano Ronaldo: The World at His Feet," said Sam Toles, Vice President, Content Acquisition and Business Development, Vimeo. "This timely story gives fans worldwide an intimate glimpse into the life of one of the most iconic players today vying for the World Cup title." The deal was brokered between Lise Romanoff, Managing Director/CEO of Vision Films, and Sam Toles, Vice President of Content Acquisitions & Business Development at Vimeo.
Director Tara Pirina adds, "Viewers will be captivated by Benedict's rich voiceover on this extraordinary rags-to-riches story about a disadvantaged child beating all odds."
"Cristiano Ronaldo: The World At His Feet" is available worldwide now on Vimeo On demand at http://vimeo.com/ondemand/cristianoronaldo/98195044, for $4.99 rental or $14.99 download. As part of its global release on Vimeo the film has been translated into French, Portuguese, Spanish and German.
Film Synopsis: For 3,000 years this has been the world's game and every great player has started from the same point. All the icons, from Pele to Beckham, their journey began the same as everyone else's - with just a ball. And today's premiere soccer icon and Laureus Award nominee, Cristiano Ronaldo, was molded from the humblest of beginnings.
Narrated by the talented and award-winning actor Benedict Cumberbatch, World Cup 2014: Cristiano Ronaldo: The World at His Feet, takes us far beyond the coiffed hair, devastating good looks, and lavish lifestyle. Behind the fast cars, expensive threads, and model girlfriends—stands a tremendous athlete, carved and sculpted by relentless dedication and God-given talent. He is the most polarizing sports figure in the world.
Ronaldo is the most-discussed athlete on the planet, and love him or loathe him – his talent and presence cannot be ignored.
Also featured are some of the top World Cup players and champions in the sport today. From Beckham to Messi we take a look at how these competitors shaped this competition into the iconic championship it is today.
About Vision Films
Vision Films, Inc (http://www.visionfilms.net) is a worldwide distributor of over 800 independent Feature Films, TV Movies, Documentaries, and Music Specials, and licenses all available rights from Theatrical, Video/DVD/Blu-Ray, Television, and VOD/Digital Media rights to both the International and Domestic marketplaces. Lise Romanoff is Vision's Managing Director/CEO, Worldwide Distribution.
About Stax Entertainment and Future Site Entertainment
Tony Taglienti of Stax Entertainment and Tara Pirnia of Future Sight Entertainment have teamed up to produce a series of very timely documentaries such as One Direction: The Only Way is Up, William and Kate: A Fairytale Romance, and Justin Bieber: This Is My World.
About Vimeo On Demand
Launched in 2013, Vimeo On Demand is an open self-distribution platform that enables creators to sell work on their own terms to audience worldwide. There are currently over 10,000 titles available for purchase on Vimeo On Demand across a broad range of subjects. Through Vimeo, creators are able to choose their price, viewing format (stream or download), and geographical availability while retaining full ownership of their work. Vimeo also offers in-player transaction support, allowing creators to sell their work on their own sites or embedded across the web.
Audiences worldwide can discover a broad range of content from over 18 genres found on Vimeo On Demand, from instructional how-to videos to beautifully shot independent films. Vimeo curates the pages to showcase the amazing breadth of content worth watching from the world's leading creators. Once purchased, the films are available for viewing immediately on Vimeo and can also be viewed on a users' smartphone, TV and/or any connected devices with the Vimeo app.