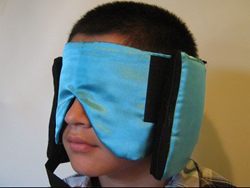 We are on a mission! – to find the Holy Grail of sleep masks!
Los Angeles, CA (PRWEB) June 24, 2014
"We are on a mission!" he claims – "to find the Holy Grail of sleep masks - one that blocks the maximum sound possible, but still is comfortable to sleep with."
In 1998, de Cordova invented the first adjustable sleep mask attached to sound blocking, patterned after what he saw in a lucid dream (a pillow around his head attached to a sleep mask). The invention, patented as the Dreamhelmet, has since become a popular multipurpose sleep tool.
The Dreamhelmet was an overnight media hit. It was introduced on the first Howie Mandel Show of 1999, and The Washington Post Newspaper did a review of the Dreamhelmet in their Sunday Travel Section on June 11, 2000, generating interest and sales for the new sleep phenomenon. Since then, the Dreamhelmet has been featured in more independent media reviews than any other sleep aid, and has appeared many times on national television, including Good Morning America.
De Cordova has gradually improved the Dreamhelmet, enlarging the patented secret HiPockets™ to hold iPhones and passports. With the sleep mask tucked away, Dreamhelmet morphs into an attachable pillow, to read, or watch TV. He also added more light and sound blocking material, and experimented with new fabrics. The most recent addition to the Dreamhelmet sleep mask sound blocking pillow family is the Nap Star, a smaller, three-piece version of the Dreamhelmet.
Says de Cordova, "We believe our present sleep masks are the world's best sleep aids – but many customers want even more! There must be millions of people desperately trying to sleep in noisy places, and when they hear about something that might help them do that, they imagine a magical mask which will instantly put them into a 'quiet world'. It's not easy, but we want to develop a product that gets as close as possible to that ideal."
Other companies offer sleep masks with earplugs, and even masks with earmuffs and earphones. Also available are masks that put users to sleep or wake them up with lights. Some attempt to use mind-reading sensors to track and regulate sleep, or induce REM dream states. Many of these products disappear from view as customers realize they don't work as advertised.
In spite of these other dubious efforts, Dreamcloud Productions is confident their utility patent (6,088.836) holds the key to making the world's best sound-reducing sleep aid. They have returned to the drawing board to design their SuperMask, based on their successful sleep-mask-pillow format. The new masks will still feature the trademark pillow and chin strap, but will have enhanced sound-blocking ability. Final designs, with new sound blocking materials and fabrics, are now being tested.
Dreamcloud Productions anticipates using some funding from the Kickstarter campaign to improve their marketing, rebuild their website, and make a significant investment in advertising. They hope the backing from Kickstarter will be enough to produce an infomercial.
Dreamhelmet products are made in Los Angeles and the company wants to keep it that way. They have been sold directly to the public through the Internet on their own websites and on eBay, Amazon, etc. Because such venues demand constant updates to adapt to the whims of changing conditions online, Dreamcloud Productions is considering increasing production and opening their sleep mask sales to the bricks and mortar retail trade.
What is Kickstarter?
Kickstarter is an independent 'crowdfunding' website, where a person, company, or a group announces a new project for which they would like to attract financial 'backers'.
An amount of funding desired and a time span (usually 30 to 60 days) is specified. In return for pledging money at varying levels, backers of the project usually receive first editions of the new product or service and/or other rewards.
A credit card and an Amazon customer account are necessary to make a pledge. Amazon keeps track of the pledges and only charges the credit card of a backer, when, and if, the project is fully pledged to be funded. Amazon and Kickstarter each charge a commission, and the balance is delivered to the bank account of the project managers.
If the Kickstarter project fails to reach its financial pledge goal by the cutoff time stated, no credit cards are charged and no money changes hands. According to Kickstarter, about 44% of products launched achieve their funding goal.
The funding pledge period for the SuperMask ends on July 5.
The Dreamhelmet and Nap Star are sold on Amazon and eBay and can also be found on their own websites at: http://www.dreamhelmet.com and http://www.napstar.us.