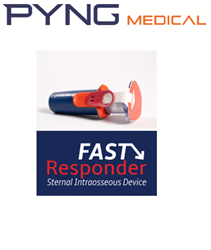 We're extremely appreciative that such a respected organization as JEMS has recognized and validated these efforts by endorsing FASTResponder as one of the top 2014 products for the EMS market
Vancouver, B.C. (PRWEB) June 24, 2014
Pyng Medical Corp. (PYT:TSX.V), an award-winning developer of trauma and resuscitation products for emergency, combat and critical care personnel, announces that its new FASTResponder Sternal Intraosseous (sternal IO) device was awarded the Hot Products title for 2014 by the Journal of Emergency Medical Services (JEMS). The award recognizes the best new products for emergency medical services (EMS) launched within the eight months prior to the EMS Today Conference, which was held in Washington DC on February 6-8, 2014.
FASTResponder is the newest sternal IO device from Pyng Medical, specifically designed to be used in emergency medical services and hospital settings whenever traditional intravenous access fails.
"Pyng's FAST1 sternal IO device has long been accepted and used for fluid management by global militaries. With FASTResponder, our team worked hard to develop a sternal IO product to meet the specific needs of civilian EMS and hospital personnel," said Pyng CEO Mark Hodge. "We're extremely appreciative that such a respected organization as JEMS has recognized and validated these efforts by endorsing FASTResponder as one of the top 2014 products for the EMS market."
Pyng Medical is the pioneer in sternal intraosseous infusion technology. In 2000, Pyng launched FAST1, the first FDA-cleared IO system designed specifically for use in the sternum during adult and adolescent emergency intervention. FAST1 has been trusted and used by military and combat personnel for more than 14 years.
FASTResponder includes all the trusted and proven features of FAST1, but is modified to specifically meet the needs of civilian emergency medical services and hospital critical care personnel. Unlike humeral or tibial IO products, FASTResponder requires no batteries, drilling or separate needles. Featuring an all-in-one design with automatic depth control built in, EMS personnel are able to quickly and easily locate the site, and gain consistent access without worrying about using too much pressure. Additional benefits include:

EMS personnel can safely use FASTResponder during CPR and with a cervical collar in place.
Patients experience less pain on both insertion and infusion with Sternal IO.
Designed for EMS transport with secure, low profile tubing that is difficult to dislodge.
A compact and lightweight design to fit easily on a crash cart or in an emergency bag.
Less pain for the patient both on insertion and infusion as compared to humeral or tibial IO. Lidocaine is not required in many cases.
For more information on FASTResponder, including the product information sheet and video, visit go.pyng.com/fastresponder.
To learn more about the Hot Products Awards, download the PDF at http://www.jems.com/sites/default/files/HotProdcuts_0.pdf or visit the JEMS Hot Products issue web page at: http://www.jems.com/magazines/2014/june.
About Pyng Medical Corp.
Pyng Medical Corp. engineers and markets award-winning trauma and resuscitation products for front-line critical care personnel world-wide. Pyng's product portfolio includes innovative sternal intraosseous (sternal IO) pelvic stabilization and tourniquet devices specifically designed and customized for both the military and civilian markets. With growing markets in North America, Europe and Asia, Pyng develops user-preferred medical devices for use by hospital staff, emergency medical services and military forces worldwide.
More information about Pyng is available on SEDAR at http://www.sedar.com under the Company's profile and on its website: http://www.pyng.com.
For More Information:
George Dorin
Chief Financial Officer
Pyng Medical Corp.
(604) 303-7964 x219
http://www.pyng.com
Neither the TSX Venture Exchange nor its Regulatory Service Provider (as that term is defined in the policies of the TSX Venture Exchange) accepts responsibility for the adequacy or accuracy of this release.
Safe Harbour Statement; Forward-Looking Statements: This release may contain forward-looking statements based on management's expectations, estimates and projections. All statements that address expectations or projections about the future, including statements about the Company's strategy for growth, product development, market position, expected expenditures and financial results are forward-looking statements. Some of the forward-looking statements may be identified by words like "expects", "anticipates", "plans", "intends", "projects", "indicates", and similar expressions. These statements are not guarantees of future performance and involve a number of risks, uncertainties and assumptions. Many factors, including those discussed more fully elsewhere in this release and in documents which may be filed with the British Columbia Securities Commission, the Alberta Securities Commission, the TSX Venture Exchange, as well as other USA Commissions, could cause results to differ materially from those stated. These factors include, but are not limited to changes in the laws, regulations, policies and economic conditions, including inflation, interest and foreign currency exchange rates, of countries in which the Company does business; competitive pressures; successful integration of structural changes, including restructuring plans, acquisitions, divestitures and alliances; cost of raw material, research and development of new products, including regulatory approval and market acceptance; and seasonality of sales in some products.