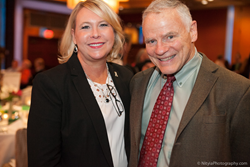 Seattle, WA (PRWEB) June 22, 2014
Dr. Greg Foltz, longtime supporter of the Chris Elliott Fund, and eminent Seattle neurosurgeon and researcher, was this year's recipient of CEF's Inspirational Award, presented annually at the Brains Matter Awareness and Celebration Luncheon. As a young man, Dr. Foltz gave up a promising career as a pianist to pursue a career as a neurosurgeon, ultimately founding and directing of the Ben & Catherine Ivy Center for Advanced Brain Tumor Treatment at Swedish Neuroscience Institute. Although he vowed to return to music once he had vanquished brain cancer, this did not come to pass. He died in June, 2013 at the age of 50 following a courageous battle with pancreatic cancer. Dr. Lee Hood, longtime teacher and mentor of Dr. Foltz, was on hand to accept the award from CEF President & CEO, Dellann Elliott Mydland, on his behalf.
In keeping with the theme of a "celebration luncheon", the event started with a champagne networking reception where participants were able to view the educational area featuring some of the latest advances in treating brain tumors. This was followed by opening comments by Education Speaker, Pritesh Shah, General Manager, US - Novocure Inc., about new frontiers in brain tumor treatment, and what this will mean for future patients. Novocure was the Presenting Partner for this year's luncheon.
Neil Scott, local Seattle radio personality, spoke eloquently about girlfriend Kitty Huish's challenges in "living with cancer" while continuing to work full time. He credits the Chris Elliott Fund with connecting Kitty with two different types of advanced brain tumor treatment, the NovoTTF device and an off-label use of Valcyte, an antiviral drug, which has shown promise in clinical trials in Sweden.
Of Kitty, he says: "When Kitty first found out she had a brain tumor, I promised her that I would stand right by her side . . . and I honor that commitment today. I don't know how long Kitty is going to live, but as long as she lives, I'll be here with her . . . and for her. Please understand that she is not dying from brain cancer, she's living with it."
Next on Kitty's treatment agenda is undergoing Cyberknife surgery to further reduce the size of her brain tumor.
Other highlights of this year's luncheon included a message of HOPE presented by Megan Patton, who has been a brain tumor patient for the past 16 years. Last year, she celebrated this journey by holding a Barn Bash benefitting the Chris Elliott Fund, which has provided her with support and connections to advanced brain tumor treatment for much of this journey. This year, she established the Megan L. Patton Fund. Megan received this year's HOPE Award, a total surprise.
Interspersed in the program were two PSA radio announcements, one playing on media partner Bonneville Seattle's radio stations and the other slated for national distribution later this year. The message of the national PSA is to "be a friend" and get anyone you know into advanced treatment immediately, if diagnosed with a brain tumor. Other event sponsors were Arbor Pharmaceuticals who market Gliadel Wafers, Genentech, Delve Analytics, Foundation Medicine, and glassybaby.
The Luncheon ended with a "Raise the Paddle", ultimately netting $44,000 for the Chris Elliott Fund's Direct Patient Support Services. Attendees were moved both by the breadth and scope of services the Chris Elliott Fund offers as well as having a much deeper understanding of what it means to be a brain tumor patient.
Pretesh Shaw of Novocure congratulated President & CEO Dellann Elliott Mydland following the luncheon: "On behalf of the entire Novocure team congratulations on a very successful event. This was my first time at the event and I was inspired, energized and in awe of the support and services the CEF provides."
Kelly Stackpole, NWG President of QBSI, A Xerox Company and CEF supporter, had this to say: "I was thoroughly impressed with the venue and the guest speakers. The story told by the radio announcer for ESPN, Neil Scott, regarding Kitty was inspiring. We are honored to have the opportunity to contribute to such an impactful cause!"
About The Chris Elliott Fund
The Chris Elliott Fund (CEF) is a brain cancer and brain tumor patient advocacy organization and national 501(c)(3) non-profit with offices in Redmond, Washington. Established in 2002, the Chris Elliott Fund is furiously committed to finding a cure for brain cancer and to bringing HOPE to the lives of patients and their families. Providing unique, one-on-one, personalized support to brain cancer patients; providing immediate access to advanced treatment options, specialists and comprehensive support programs; provide support and guidance concerning the day to day needs of patients and their caregivers; and educate the general public on matters related to brain tumors and brain cancer and advocate on issues of national public health policies impacting the lives and welfare of brain cancer and brain tumor patients. The organization and its advocates directly serve 1300+ patients and caregivers every month free of charge. CEF is a member of the Society for Neuro-oncologists, American Association of Neuroscience Nurses, American Cancer Association for Cancer Research, Washington Biosciences Association, among others. If we can help, please contact us at WeCare(at)EndBrainCancer(dot)com.