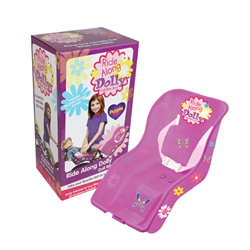 Can't a doll have some fun too?
Milford CT (PRWEB) June 23, 2014
Three years ago entrepreneur and owner of Milford CT based development company SCS Direct, Howard Greenspan, was faced with a dilemna - how to get his 6 year old daughter out of the house to learn to ride a bike. He bought training wheels and they worked great, but the desire to use the bike was minimal and the desire to take them off was even less.
Learning to ride a bike can be one of the hardest activities a parent has to endure. There are manuals on every facet of parenting, but very little on the subject of how to teach your child to ride a "big girl" bike. "I found myself running along side her not wanting her to fall, but really the fear of falling made these lessons painful for both," noted Howard. She would eventually learn to master the art of the two wheeler, but most likely only when she really fell in love with her bike - And that is when the idea of the doll bike seat came to be.
"What could be more fun than taking your best friend on a bike ride?" smiles Howard. " It gets the child out of the house and wanting to ride their bike. Beside, can't a doll have some fun too?" The idea was simple: an easy to install plastic seat that would fit most standard sized dolls and stuffed animals. It had to work around hand breaks, had to fit on all bikes, had to be pink or purple, and of course had to have a seat belt (dolls have to be safe too). For added fun, every doll bike seat includes themed decals to decorate.
The Ride Along Dolly Bike Seat for Dolls was an immediate hit, rising to become a top 500 toy on Amazon.com within weeks and top 200 toy during the holidays. Three years later, the bike seat is officially the number one doll and bike accessory on Amazon.com and has even been featured in TV commercials.
Since the products' inception, SCS Direct has expanded the line to include other girl-themed bike accessories including light up bike baskets, Flower Wheel Spokies, and bike streamers. But the newest item introduced was a matching doll bike helmet that the child can decorate with the help of their doll. After all - safety first!
The Ride Along Dolly Bike seat and full line of accessories can be found at Ridealongdolly.com, SCSDirectinc.com, and Amazon.com, as well as specialty toy retailers around the country. Ride Along Dolly retails for $19.95.