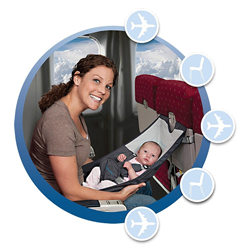 Milford CT (PRWEB) June 23, 2014
Summer is here, and that means traveling with the family. Parents of newborns are faced with the added challenges of extra bags, bulky strollers, and of course, the long airplane ride. An unhappy baby on an airplane makes for an unhappy parent and a lot of glares from fellow passengers. Here are some essential tips for parents traveling.
1) Schedule your flight times around nap times for shorter flights and bedtimes for longer flights. The sound of an airplane is actually soothing for a baby similar to a sound machine and they will sleep if within their sleep schedule.
2) Bring your bottles through security. They will be checked by security but will be allowed on a plane
3) Dress your baby in footed PJs. Airplanes can be cold and this will keep the baby fully covered and comfortable. Make sure you bring an extra outfit in case of any accidents.
4) Carry a ziplock bag of diaper essentials instead of a bulky diaper bag. Space is a premium on airplanes and better to check in the diaper bag.
5) Bring lots of toys, new ones or those not seen for a while are preferred. Keeping a baby distracted is key, and the more fresh the toys are, the longer the baby will be occupied.
6) Plan for how a baby will be comfortable. Your infant can take turns on your laps. SCS Direct Inc has developed a neat baby hammock that allows for face to face interaction while allowing a baby to rest comfortably for both you and your infant. Be sure to note - the hammock can only be used during the flight portion of the trip, not during takeoff, landing , and taxiing. It will be a lifesaver.
Traveling is supposed to be fun and stress free, and traveling with an infant should be an exciting bonding experience for the whole family. Using these tips will make make your next vacation the best yet.