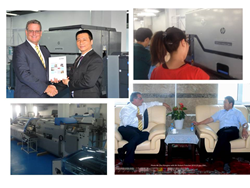 'We have been working closely to bring POD to China and it a pleasure to see China Educational Publications Import & Export Company launch this service.' Robert Fletcher, CEO of PODG
(PRWEB) June 23, 2014
The new 58 million RMB print on demand (POD) system, sponsored by the Chinese government and CEPIEC will allow true print-on-demand (POD) printing through the first facility of its kind in China. It is expected to have high utilization by international and domestic publishers that seek to maintain book inventory virtually, in China and it will reduce shipping costs and time to market for all books that can be printed on the system.
Mr. Zhu Hongtao, the President of China Educational Publications Import & Export Co, Ltd (CEPIEC) POD Facility said, "We are pleased that Publish On Demand Global had the honor of printing the first POD book in our new facility. We have relationships with thousands of the largest publishers in the world and they are already knocking on our door for the ability to supply books to the Chinese market with the efficiency of POD. We look forward to our formal launch on August 28."
"We have been working closely to bring POD to China and it a pleasure to see China Educational Publications Import & Export Company launch this service," said Robert Fletcher, President and CEO of Publish on Demand Global. "For the first time ever, our publishing clients will be able to print POD books with government approval right in Beijing for delivery throughout the country and region. With the arrival of true POD, a new chapter is born in China's connection to international markets."
As readers turn increasingly to English language books, Mr. Fletcher says more printed books will be produced digitally on demand in China. "In addition to e-books, the printed books will be distributed POD digitally...in a library, in a bookstore, in a coffee shop, or where and how the customer wishes to read," he concluded.
For additional information email pr(at)publishondemandglobal(dot)com or visit the web site, http://publishondemandglobal.com.
About Publish On Demand Global
Publish On Demand Global, through its partners and affiliates, currently provides services to approximately 10,000 authors and publishers around the world. We help authors and publishers penetrate other markets globally in print books, ebooks, mobile books and tablet books. We reach into 50 sales channels that are NOT covered by Ingram and Amazon (and any other Western company to the best of our knowledge). Web site http://publishondemandglobal.com.
About China Educational Publications Import & Export Co, Ltd (CEPIEC)
China Educational Publications Import & Export Co, Ltd. Is one of the five core members of the China Education Publishing & Media Group, the largest state-owned company of its type in China. CEPIEC was established in 1987 and provides import services to over 1,000 university and public libraries, book stores, and online e-commerce channels. They work closely with over 10,000 publishers from around the world. Web site, http://www.cepiec.com.cn/EN.