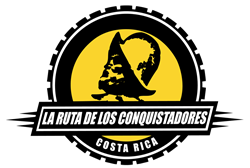 LA RUTA DE LOS CONQUISTADORES is Costa Rica's premier mountain bike race and one of the most difficult athletic events on the planet.
Philadelpiha, Pennsylvania (PRWEB) June 27, 2014
For the last 22 years, Roman and Florencia Urbina have celebrated their Costa Rican culture and love of sports by running the world renowned La Ruta de Los Conquistadores cross-country cycling event. This 3-day tour starts on the Pacific Coast of their Central American isthmus, and traverses the glorious, but grueling nation until riders reach the Caribbean east coast.
More an exploration of physical and spiritual constitution than a bike race, La Ruta has been recognized by adventure sporting enthusiasts and the outdoor industry as a "bucket list" event that is life-changing for those who cross the Costa Rican countryside.
Though celebrated by insiders as an event that tops their list of famous cycling event around the globe, La Ruta de Los Conquistadores has lived in relative obscurity for the last three decades. That is about to change as the organizers of this adventure race are pleased to announce their partnership with the Terra Firma Media Group of Philadelphia to help grow the La Ruta brand through new media production, corporate development, and rider participation from North America.
"We have a story to tell with La Ruta," beams Roman Urbina, Co-founder of the event. "Whether its the cultural diversity of Costa Rica, the lives that La Ruta has changed, or the enduring spirit of our disabled athletes, we believe that the time has come for the rest of the world, especially North America, to discover the power of La Ruta. That is why we have partnered with Terra Firma. Their experience in emerging sports and their corporate relationships will help us unlock the La Ruta brand."
The terms of the partnership were not disclosed, but Terra Firma Media Group's primary responsibilities will focus on increased North American participation from riders, corporate sponsors, and media distribution. Having worked in the emerging sports space since the 1980s, TFMG has managed the digital, television, and public relations media for sports as diverse as triathlons, jet ski racing, beach volleyball, disc golf, and more recently, the Pikes Peak International Hill Climb.
"La Ruta really is a perfect fit for our recently launched emerging sports network programming," explained John Duesler, Principal of Terra Firma Media Group. "This is a mature, extremely well-run event that has great intrigue and media potential. Our job will be to unlock the incredible brand potential that Roman and Florencia [Urbina] have built over the least three decades. We are honored to be trusted with helping manage the media from this world renowned event."
La Ruta de Los Conquistadores is a 161-mile route and, between its sea-level start and finish, crosses 5 mountain ranges that force riders to climb a cumulative 29,000 feet! The daunting terrain is so harsh that half a millennium ago, it took Spanish conquistadores led by Juan De Cavallón 20 years to cross the land of Costa Rica from the Pacific to the Caribbean Sea; today, following almost the same trails they blazed, modern-day explorers racing on mountain bikes will do it in 3 days.
Terra Firma Media Group is a Philadelphia-based firm that specializes in livestreaming, TV production, content distribution, and innovative solutions for sponsors and emerging sporting events to gain mutual benefits from their media productions. For more information about the opportunities related to the La Ruta de Los Conquistadores media project, contact Kirk Montgomery, head of corporate development, at 808-640-0608 or kirk(at)emergingsports(dot)tv.