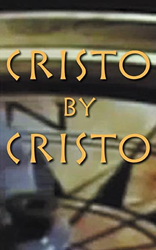 (PRWEB) July 14, 2014
From the first mention of the name 2,000 years ago, to the New World, and into the future, Cristo appears in historical fiction to lead the way into the Next World. Cristo is the actor who plays Christ; he is an admiral of the ocean seas; and he is a Shakespearean player. His is a soul that suffers the test of time to reveal himself and the secrets that led him to the Next World.
From sainthood to evil to Buddhahood, Cristo demonstrates that life and death is made easy for the common man so he can grasp the mystery of the ages. This Don Quixote-like character reaches back in time so he can dream up the future. For those ready for true enlightenment, this timeless novel will lead the way.
Now, Cristo is about to become a film, funded by a Kickstarter initiative now underway. Cristo's new journey is to raise $100,000 before August 27th. Much of the footage for the promotional film has already been shot; the stage is set as Cristo continues to push for the funding that will eventually complete the voyage and movie. Through Spain and Rome, the atmosphere is full of excitement. Only the pacification of the world lays across the Pacific to the Asia, where Cristo triples the size of the world he has traveled after doubling it 500 years ago by visiting the New World, while on his way to the Next World.
Learn about the fundraiser at https://www.kickstarter.com/projects/1255063944/cristo-by-cristo.
Watch the video at: https://www.youtube.com/watch?v=7VjKAf1JE3o.
CRISTO BY CRISTO (ISBN: 978-1-62857-977-2) is now available for $13.95 and can be ordered through the publisher's website: http://sbprabooks.com/CristobyCristo or at Amazon and Barnes & Noble.
Also available in eBook(Kindle ISBN: 978-1-63135-327-7, e-Book ISBN: 978-1-63135-328-4) for $7 at http://epubco.com/shop/products/cristo-by-cristo-by-anonymous/ and in multi-format digital editions from numerous online vendors.
WHOLESALERS: This book is distributed by Ingram Books and other wholesale distributors. Contact your representative with the ISBN for purchase. Wholesale purchase for retailers, universities, libraries, and other organizations is also available through the publisher; please email bookorder(at)aeg-online-store(dot)com.
Strategic Book Publishing and Rights Co, LLC