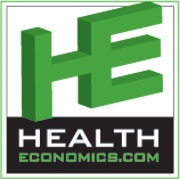 'HealthEconomics.Com continues to dominate the pharma pricing and market access global arena with our extensive media and professional association presence,' says CEO Dr. Patti Peeples
Ponte Vedra Beach, Florida (PRWEB) June 23, 2014
HealthEconomics.Com, the global authority on pharmaceutical market access and health outcomes, for the 7th time overall, and the past 4 years for this annual meeting, was recognized as a top industry meeting influencer based on tweets during the 19th Annual International Society for Pharmacoeconomics and Outcomes Research (ISPOR) Meeting, May 31- June 4, 2014, held at the Palais des Congrès de Montréal, Montreal, QC, Canada. The title of Top Influencer is awarded based on number of individual mentions, total impressions, and volume of tweets containing the hashtag for the ISPOR Meeting (#ISPORMontreal), as well as an analysis of each tweet's reach, as recorded by Symplur.Com Healthcare Hashtag Project. HealthEconomics.Com was a Top Influencer in all of these categories. Previously, HealthEconomics.Com has been recognized as Top Influencer for the Drug Information Association Annual Meeting, Academy of Managed Care Pharmacy Annual Meeting and Expo, and the past five ISPOR Meetings in Washington DC; New Orleans, Louisiana; Madrid, Spain; Berlin, Germany; and Dublin, Ireland.
Among the 263 organizations and individuals tweeting from the ISPOR Congress, HealthEconomics.Com (@www_healthecon) had the greatest reach via Twitter, garnering more than 450,000 impressions worldwide (greater than twice the reach of the 2nd-ranked organization, Quintiles, with 194,000 impressions). HealthEconomics.Com provided live updates to followers within pharmaceutical pricing, market access, health technology assessment, and health economics areas on topics including big data, health information technology, pharma pricing, patient-reported outcomes, and real-world evidence. HealthEconomics.Com sent out 184 tweets from the ISPOR meeting over 5 days, covering live podium presentations, symposia, poster presentations, and exhibit floor activities.
Dr. Patti Peeples, CEO and Founder of HealthEconomics.Com said, "HealthEconomics.Com has the most extensive social media and professional network of any organization within the health economics and outcomes research arena, and our corporate participation in these events, as well as coverage of major industry activities has become an essential way for the global audience to become more deeply engaged with content and issues, as well as to network with colleagues." HealthEconomics.Com reaches an audience of more than 20,000 professionals through their website (http://www.healtheconomics.com), weekly newsletters, and vast social media presence. Dr. Peeples continued, "The mission of HealthEconomics.Com is 'Connected Community' and no one in the pharmaceutical industry does this better than HealthEconomics.Com, utilizing all the tools available within today's digital environment."
The International Society for Pharmacoeconomics and Outcomes Research promotes the science of pharmacoeconomics (health economics) and outcomes research (the scientific discipline that evaluates the effect of health care interventions on patient well-being including clinical, economic, and patient-centered outcomes) and facilitates the translation of this research into useful information for healthcare decision-makers to increase the efficiency, effectiveness, and fairness of health care to improve health. Founded in 1995, ISPOR is a non-profit public organization for educational and scientific purposes.
About HealthEconomics.Com (http://www.healtheconomics.com): A pioneer in the field, HealthEconomics.Com is the global authority in healthcare value and market access. Each day, HealthEconomics.Com compiles the latest news, policy updates, resources, conferences, and jobs for BioPharma's professionals involved in health economics, outcomes research, market access, and pricing. A trusted resource, HealthEconomics.Com's comprehensive content is carefully selected by a discerning health economist editor, making it the most visited website for healthcare value and market access in the industry, with visitors encompassing all corners of the globe.
News Media interested in receiving the most current information on healthcare value and market access may access for free any resources and news on HealthEconomics.Com by visiting the website or by subscribing to the weekly HealthEconomics.Com Newsletter.