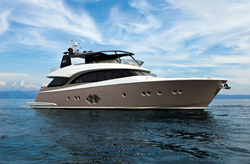 'The market's response all over the world has been unbelievable.' -Justin Onofrietti
Fort Lauderdle, FL (PRWEB) June 23, 2014
The 2014 Hong Kong Gold Coast Boat Show concluded with the results of the Asia Boating Awards. The Monte Carlo Yachts 86' emerged as the winner of "Best Worldwide Production Motor Yacht over 25 meters."
The jury, composed of a panel of international experts, acknowledged the yacht's original design as well as her unparalleled shipbuilding qualities. The blending of these two aspects emphasized the unique approach displayed by Monte Carlo Yachts. The refinement of Italian yachting style meets the Bénéteau Group who is universally recognized for technological and industrial efficiencies. This methodology was accentuated by international fashion brands, such as Armani and Hermès, who contributed to accessories and furnishings which highlight MCY's exceptional craftsmanship.
Carla Demaria, President of Monte Carlo Yachts, declared, "The Asia Boating Awards recognize the very best in the maritime industry, not only throughout Asia, but also on an international level. We couldn't be happier to win the award for 'Best Worldwide Production Motor Yacht' in the category above 25-meters with our MCY 86 as we faced some stiff competition. This award is a great achievement for Monte Carlo Yachts that follows the quite unique series of awards achieved by each MCY model over the last few years."
"I recently returned from the factory in Italy where I had the opportunity to preview the construction of the first MCY 86' for the USA. This will be Hull 05 for a line that was just launched in June 2013. The market's response all over the world has been unbelievable. The owners of this 86' have made incredible customizations that will translate perfectly to a U.S. market that is lacking a brand of this caliber," adds Monte Carlo Yachts specialist, and Denison yacht broker, Justin Onofrietti.
Denison Yacht Sales is the Monte Carlo Yachts exclusive dealer in Florida and the Great Lakes.