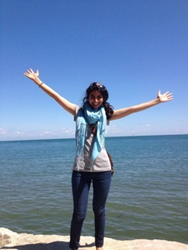 "Travel changed me; it shaped me into a more compassionate and curious person. You might even say that travel saved me." - Heather Mickley, Director of Wax Communications
New York, NY (PRWEB) June 23, 2014
It has been nearly four weeks since Trip of a Lifetime, a student run nonprofit organization that provides summer travel scholarships for underprivileged students, launched Travel Changes You. Travel Changes You harnesses the collective power of storytelling to inspire people of all ages and backgrounds to travel more and expand their horizons. To do this, the campaign is collecting as many travel stories as possible. In total, Travel Changes You has received over 50 stories and another 20 more are on their way in the next two weeks.
While there's no better way to explore this initiative than to spend a few hours reading each story on travelchangesyou.org, below are some examples that prove that no matter what walk of live we are from, travel has the ability to transform lives.
For Winston Fisher, a partner at Fisher Brothers, a prominent New York City Real Estate firm, travel reminds him to push the boundaries of what is possible. Winston is also an accomplished athlete, having completed the Ironman Triathlon and Race Across America, an eight person 3,000 mile bike race, raising over $600,000 for the Intrepid Fallen Heroes Fund. As Winston puts it "no matter how difficult and challenging each race is, our wounded heroes in uniform have gone through much, much worse. I combine my passion for travel, adventure and competition to support our greatest heroes – our troops – we can never thank them enough for their service to our country."
Heather Mickely, director of Wax Communications, shares a travel experience all too familiar. After experiencing burnout from work, Heather was convinced by a friend to visit Costa Rica and that trip was the cure Heather needed all along. From her experience, Heather has vowed to make "it a point to take a trip at least once year." As she puts it, "Travel changed me; it shaped me into a more compassionate and curious person. You might even say that travel saved me."
In addition to accomplished executives, many students have participated in Travel Changes You, including Monica Duque. Monica is a sophomore at the University of Buffalo is an alumnus of Trip of a Lifetime, a program that provides summer travel scholarships to underprivileged students. In her story, Monica writes that a trip to Ecuador in 2006 taught her to always be humble and grateful for what she has. As Monica says, "I wanted to become a role model for my community, and I wanted to become a motivational speaker. If it wasn't for the opportunity to see Ecuador again, I wouldn't be the person I am today. I am making sure that my success won't get in the way on how I treat others, or let it change who I am as an individual."
To participate, please visit http://www.travelchangesyou.org and share 100-200 words about how travel has affected you. A few minutes can make a big difference in how others view the importance of travel.