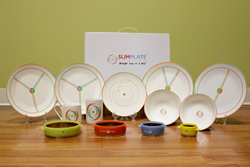 SlimPlate System is a portion control method which can help to trigger dramatic weight loss in a healthy and sustainable manner
Rock Hill, South Carolina (PRWEB) June 23, 2014
SlimPlate System is a portion control method which can help to trigger dramatic weight loss in a healthy and sustainable manner, helping to prevent premature illness and death as a result of being overweight. The unique dinnerware system and the accompanying plans could help to reduce the burden on health services across the globe and help to prevent thousands of deaths that could be avoided through weight loss.
A spokesperson for SlimPlate system said, "The figures regarding the number of worldwide deaths are terrifying, not just for the individuals who are overweight, but also for others trying to access oversubscribed health services that are struggling to cope with the extra burden. SlimPlate System is a simple, efficient system that offers great results quickly – average weight loss among our clients is between 14lbs – 22lbs in the first three months; a figure which could bring many people down over the threshold of obesity."
He adds, "Portion control doesn't involve any kind of deprivation, fasting or juicing – it's an accessible, easy-to-follow weight loss method that facilitates the kind of healthy, sustainable weight loss that dieticians, physicians and weight loss experts are endorsing in these worrying times."
Obesity issues are reaching crisis point across the globe – not only is it causing serious illness and premature death among many, it's placing great strain on health services. According to the WHO, 44% of the diabetes burden has been attributed to obesity, while estimates of up to 41% of the cancer burden is recognised as being linked to people being overweight.
Dr Nwe, inventor of the SlimPlate system advises to its users on how they can jump start on weight loss journey in these simple ways:
1. Drink 8-10 glasses of water.
2. Stay off artificial sweetener and diet drinks.
3. Eat four to five times a day.
4. Stop drinking calories (sugary) drinks.
5. Use portion plates, cups and tools to portion meals, drinks and snacks.
6. Do activity that make one warm and sweat to improve metabolism.
SlimPlate System includes a basic dinnerware set which helps people to see exactly how much they should be eating to stay on plan. There is no calorie counting or demonization of certain food groups – it's a simple system of moderation where participants can still indulge in the foods they love, as long as they eat the correct portion.
The four-stage plan has been designed by physicians to trigger and maintain healthy weight loss, and each stage fully endorses regular eating, balanced meals and controlled portions, rather than fasting or starvation as a method of shedding weight. Approved and accredited by weight loss experts, the SlimPlate System could be the answer to the obesity crisis as well as the burden on global health services.
To find out more about SlimPlate System, visit the website: http://www.slimplatesystem.com/.
About SlimPlate System:
SlimPlate System is a four-stage weight loss program that shuns deprivation for portion control. The system, which has been designed by physicians and proven by research, is easy to implement and maintain, with no calorie counting, costly supplements or juice fads.