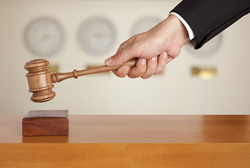 Properties that are in bad condition may also benefit from an auction.
Chicago, IL (PRWEB) June 21, 2014
Auctions are taking a new turn in the real estate market, and are becoming less associated with short sales and million-dollar home sales. Many home sellers at a middle ground are using auctions to minimize home showings and ease the process of negotiation. On June 13th, the Chicago Tribune in a piece titled "Buyers, sellers seeing benefits of auction process" shared some of the benefits and disadvantages of selling a home via auction, stating that "the different route to a property purchase doesn't mean there isn't still a bit of give-and-take between the seller and the buyer."
CF Funding is aware that the homebuying process is not always easy. The mortgage lender has financed homes since 2000, and CF Funding loan specialists have seen a variety of homebuying and selling scenarios. However, there are only a select few situations where the lender suggests selling at an auction. As mentioned before, repossessed homes may benefit from auctions, if a quick sale is required. Properties that are of high value may also see benefits from selling by auction, as less unqualified buyers will be viewing the property. Another scenario where auctions may be beneficial is when a property is highly in demand, such as a single-family home in North Park. Buyers may feel that they could miss out on something special, and therefore are willing to place higher bets. Other areas where homes are in high demand in Chicago are Avondale, Edgewater, West Town, and North Center, as pointed out On June 17th by ChicagoRealEstateDaily.com.
Properties that are in bad condition may also benefit from an auction, as auctions are highly populated with investors. Investors may be more interested in remodeling a property in less-than-perfect condition than other buyers. They are also more likely to have the funds available to do so.
So what are the disadvantages of selling via auction? Unfortunately for the seller, there is still a lot of privacy invasion leading up to the auction, where home viewings leading up to the auction can become overwhelming. The sale of the home is not guaranteed, and once the price is set, there is no further negotiation (even if the sale is much lower than expected). Luckily, the buyer has the ability to set a reserve price to avoid a less-than-ideal selling price. There are many fees associated with auctions that are required whether or not the property is sold, such as solicitor fees. If the home is sold, the seller may be in a rush to leave the property, as many auctions require the homeowner to vacate the property within 28 days of the sale.
Every home sale is different, and the best solution varies based on many factors. For flexible solutions to fit your homebuying needs, visit CF Funding Corporation at http://www.cffunding.com.