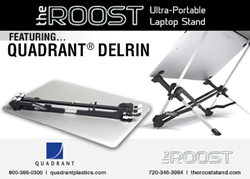 Looking to meet the increased needs for mobility and portability in laptops while addressing medical conditions brought on by repetitively hunching over laptops, a young engineer sought to develop the Roost Stand
Reading, PA (PRWEB) June 23, 2014
The Roost laptop stand was developed to reduce medical issues without losing function or edgy design and that can easily be transported from the office to the local coffee shop. It would take a kickstarter campaign, a friend's machine shop, superior materials, and a vision to launch The Roost stand. The stand had to be easy to use, portable, super lightweight, and sturdy, all while keeping in mind its true purpose -- to reduce medical issues. Looking to meet the increased needs for mobility and portability in laptops while addressing medical conditions brought on by repetitively hunching over laptops, a young engineer sought to develop The Roost stand.
As portable computer devices become more popular, users are sacrificing ergonomics for portability. It was while working as an engineer at Lockheed Martin that James Olander, the creator of the Roost stand, developed Repetitive Strain Injury (RSI) from using his company-issued MacBook Air. "After developing an RSI I realized that computers are actually crippling people, so I quit my day job, bought a laser cutter and packed up my busted old Ford van and moved to Denver to follow my passion," stated James. Since the 1970s, there has been a worldwide increase in RSIs of the arms, hands, neck, and shoulder attributed to the widespread use of typewriters/computers in the workplace that require long periods of repetitive motions in a fixed posture.
Source materials had to be lightweight and laser cuttable since that was the only machine available to James. "I tried acrylic but it had very poor mechanical properties. Then I tried fiberglass and heat-shrink tubing but found it was too weak, and I began to get very discouraged," said James. "It was then that I turned to Laird Plastics for guidance and was recommended Quadrant's Delrin, which provided superior mechanical properties, was very lightweight, and could machine to tight tolerances." Quadrant Delrin can make up to 1,000 parts in 60 minutes compared to machining aluminum where 1 part takes 10 minutes.
The Roost first debuted the "Roost Stand" at the Maker Fair and now currently distributes more than 1,000 stands a month from their Denver office. They are continually looking for ways to increase efficiency of the Roost stand and other derivative products. The sleek, innovative look paired with ergonomic design offers improved performance over competitive products currently available.
About Quadrant Engineering Plastic Products
For over 70 years, Quadrant Engineering Plastic Products (EPP) has been proving there is simply no substitute for quality, innovation and distinction. Quadrant EPP is the global leader of high-performance engineering plastics that are used for machined parts in food processing and packaging, semiconductor manufacturing, aerospace, electronics, chemical processing, life sciences, power generation and diverse industrial equipment. Its superior products range from UHMW polyethylene, nylon and acetal to ultra-high performance polymers that resist temperatures to over 800°F (425°C).
With a rich history as a company who pioneered machinable plastics, Quadrant is backed by a global team of application development and technical service engineers who specialize in evaluating designs and machining parts. Products and services are available through a worldwide network of branch offices, technical support centers and authorized dealers.
Registered trademarks of the Quadrant group of companies: Acetron®, CleanStat®, Duraspin®, Duratron®, Erta®, Ertalyte®, Ertalene®, Ertalon®, Extreme Materials®, Fluorosint®, Ketron®, MC®, Monocast®, Nylatron®, Nylasteel®, Polypenco®, Proteus®, Sanalite®, Semitron®, Techtron®, TIVAR® and Vibratuf®.
About The Roost
The Roost is an ultra-portable laptop stand designed to help you sit properly at your laptop. The kickstarter campaign to develop the product launched in June, 2013, and connected with 2,448 people who were looking to improve their relationship with their laptop. Within 30 days the campaign raised nearly $200,000 to purchase materials and begin design. The inventor of The Roost, James Olander, previously an engineer, was looking for a way to comfortably work from his laptop. He found that working from a laptop (i.e., an ergonomic disaster) meant wrecking his back, neck, wrists, hands, and, thus, livelihood. Finding that nothing existed to meet this need, the inner engineer piped up: "Build it." The Roost is the over-engineered offspring of that big necessity. The Roost is currently located in Denver, Colorado.