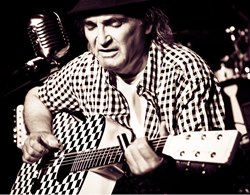 Here's the real deal - living on the road, writing to survive, playing every night possible and succeeding remarkably; it was an honor to see and hear this thoroughly authentic, un-comprimising American original...Davis Cael - The Midwestern
Chicago, IL (PRWEB) June 24, 2014
Eric Sommer, Pop Americana Artist, brings his brand of "singin' and guitarin'" to The Windy City this week, and it's a perfect fit for Chicago.
Why? Because. Just because.
It has everything Chicagoans appreciate - it is loud without being over-bearing, it is acoustic guitarin' at its best in the style of Steve Howe, David Bromberg and Chet Atkins, and it is remarkably physical... arms and legs and picks and strings all akimbo in a blurry cyclone that hovers between the vintage backline and the vintage 1951 Shure Brothers, Chicago 1951 totally authentic Unidyne microphone.
Entertaining? Vastly entertaining.
And making the evening even more impressive is the fact that Eric Sommer is no slouch. His is a bold, aggressive, highly accurate and exceptionally musical style, and the delivery is fun, immensely watchable and as good as it gets. Slide, finger-style, open-tunings, tuning on the fly, lap slap acoustic, floor stompin' and whammy barin'… there are few guitar skills Sommer has not picked up and thrown into his bag.
Mr. Sommer is an accomplished writer as well - and brings smartly crafted songs to any show. Rainy Day Karma is the latest record/CD by this Americana artist, and it has reached highly respectable numbers in sales and radio play.
Three songs are standouts on a record of excellent cuts - Sunny Afghanistan, Red Queen and Cover My Soul in Gasoline. They are highly musical, engaging and deliver some interesting messages - not your run-of-the-mill love song stuff. This is Tom Waits meets Levon Helm sitting next to Robert Johnson on a bus driven by Elvis Costello, John Lennon and tickets being taken by Hunter Thompson.
Eric Sommer is all around this week in Chicagoland:
Tuesday, June 24 @ The Redline Tap @ 8pm
Wednesday, June 25th @ Uncommon Ground at Devon Street @ 9pm
Friday, June 27th @ Reggie's @ 5pm
Sunday, June 29th @ The Legendary Dobbs, Philadelphia @ 2pm
With open tunings, slide guitar, lap-slap tone guitar and a remarkably aggressive fingering style approach, watching Eric Sommer will make you jump out of your seat and holler for joy! There are very few players who have maintained this authentic American style of guitar, and Eric Sommer is one of the very best.
__________________________________________________
For music samples, please visit Eric Sommer online for additional schedules or contact him at eric(at)ericsommer(dot)com or call 202-255-1995. Additionally, you can find Eric Sommer on Facebook, too. RAINY DAY KARMA is also available on iTunes and CDBaby.
Pea Patch Island Entertainment in Hilton Head, NC, and Marianne Stauffer in Houston, Texas represent Eric Sommer. PR programs are managed thru MTG/NY. For more information, promo/appearance requests or to set up an interview, please contact Gary Curry, PeaPatch Island, 609-202-5021.