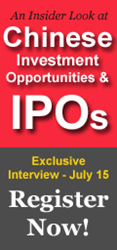 "An Insider Look at Chinese Investment Opportunities and IPOs" Tuesday, July 15, 10:00 am EDT
Tarrytown, NY (PRWEB) June 24, 2014
InfoDesk and the Financial Times, in conjunction with MayTech Capital Management LLC, will sponsor a complimentary Global Financial Intelligence Webcast, "An Insider Look at Chinese Investment Opportunities and IPOs," featuring an exclusive interview with iKang CEO by Ingrid Yin, Ph.D., Managing Partner at MayTech Capital Management. The Webcast will be held on Tuesday, July 15 at 10:00 am EDT. Learn more and register online.
This Webcast, the first in a series of Global Financial Intelligence Webcasts, is designed to help finance and information professionals make better, more informed strategic business and investment decisions. The Webcast will explore how analysts and information professionals can effectively gather intelligence to better evaluate Chinese investment opportunities.
Ingrid Yin, Ph.D., Managing Partner at MayTech Capital Management, will moderate the Webcast. Dr. Yin will discuss recent China industry and investment trends, focusing on the latest crop of Chinese IPOs. Yin is a seasoned investment professional with expertise in China related investments. Before founding MayTech Capital, she was the Managing Director and Senior Equity Analyst covering China healthcare and consumer sectors for Oppenheimer. Prior to that Dr. Yin was the Senior VP and Senior Equity Analyst for China Healthcare, Education and Agriculture sectors at Brean Capital. Before that, she was an Asian Equity Analyst at Wellington Management.
iKang, a recent Chinese IPO on NASDAQ, is a leading healthcare management company based in Beijing providing medical service, medical management and health benefits to corporate employees and the middle- and upper classes. The company went public in April, 2014 and currently has a market cap of $1.13Billion.
"In China people don't see private doctors for physicals and checkups," explained Yin. "Instead they usually have to spend a whole day at the hospital." iKang, on the other hand, provides companies and individuals with routine healthcare services in convenient and modern private offices with little to no wait. As such, Yin sees iKang as "perfectly poised to benefit from China's unique healthcare environment, rapidly growing middle class and their desire for convenience and more professional health services."
Yin will discuss key information gaps and cultural differences that make analyzing Chinese investment opportunities more challenging—but nonetheless more rewarding. Yin's presentation will include a case study of the recent NASDAQ IPO of iKang Healthcare Group, Inc. and an exclusive interview with Lee Zhang, CEO of iKang.
"When we evaluate investment opportunities with Chinese companies, particularly Chinese IPO's," said Yin, "we need to understand how they differ from US or EU companies." This requires knowing where to look, what to look for or benchmark and how the shifting political, social and cultural norms of China can impact the companies for better or for worse.
The Webcast will use iKang as a case study as it looks at ways in which analysts and information professionals can more effectively gather intelligence to better evaluate Chinese investment opportunities. Yin and Zhang will discuss some of the many "uniquely Chinese" issues that can make investing in Chinese companies potentially rewarding, but also risky. They will examine the importance of understanding a variety of key factors, including motivation, leadership, public/private regulations, corporate governance, cultural preferences and economic demands.
Additionally, they will talk about a range of financial intelligence resources available about Chinese companies, including public information, annual reports, the Chinese and global press, and conferences. They will also focus on the importance of connections in the Chinese business community.
Zhang is an ideal speaker to discuss investing in China. "Not only has Zhang spent the last ten years building this company" Yin said, "he is one of the ground breaking Chinese entrepreneurs with western education and experience." Zhang has a proven track record as a successful entrepreneur and business executive, with interests ranging from healthcare and biotech to Internet since 1997.
Zhang is currently the Chairman and CEO of iKang, a leading healthcare management company formed through the merger of iKang Healthcare and Guobin Physical Checkups Service. iKang Healthcare Group, Inc. is based in Beijing, China.
Zhang was the founding CEO of eLong.com, which he built as a leading online travel service company in China from 1999 to 2003. eLong.com was later partly acquired by Expedia.com and filed for IPO on NASDAQ in October 2004. From 1998 to 1999, he served as the head of product development at Sohu.com, which he built from a directory search site into a major portal in China. Prior to Sohu.com, Zhang was a Ph.D. candidate in genetics at Harvard Medical School from 1995 to 1998. During his years at Harvard, Zhang founded Harvard China Review, Inc., which produces journal publications and organizes conference series on China issues.
Zhang studied biology as an undergraduate student at Fudan University in Shanghai and worked at Columbia University Medical School. He received his B.A. in biology and chemistry from Concordia College in Minnesota in 1992 and his Masters degree in biomedical science from Harvard University in 2001. Register now – Space is limited!
###
About InfoDesk
InfoDesk (http://www.infodesk.com) is a business intelligence platform that helps organizations manage, deliver and share all of their content resources. For more than 15 years InfoDesk has helped some of the largest multinational corporations, top government agencies and media companies maximize their information resources. InfoDesk is based in Tarrytown, NY with offices in London and Washington DC.
About the Financial Times:
The Financial Times, one of the world's leading business news organizations, is recognized internationally for its authority, integrity and accuracy. Providing essential news, comment, data and analysis for the global business community, the FT has a combined paid print and digital circulation of 665,000 (Deloitte assured, Q1, 2014). Mobile is an increasingly important channel for the FT, driving 60 per cent of subscriber consumption, 45 per cent of total traffic and 20 per cent of new digital subscriptions. FT education products now serve 37 of the world's top 50 business schools.
About MayTech Capital Management LLC
MayTech (http://www.maytechcapital.com) Capital Management LLC is a research-driven asset management company with investment focus on publicly-traded companies for global investors. The firm is founded with the vision to capture the secular growth in the greater China region to generate superior absolute returns for investors. MayTech Capital headquarters in New York with investment teams based in New York and in Beijing.