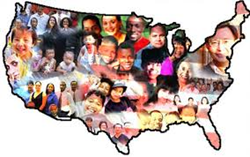 the future influx of immigrants is expected to grow by 800,000 to 1 million people per year
Chicago, IL (PRWEB) June 22, 2014
Peoples Home Equity came across an intriguing June 22nd article from BusinessInsider.com titled "Immigrants Are An Extremely Important Force In The US Housing Market" spelling out the benefit of immigration and the housing market.
Immigration policy is often a heated subject in America. It turns out that immigration itself is very positive for the housing market.
Business Insider states "Immigrants create demand, they clear out undesired inventory, and they improve crime-ridden neighborhoods." As many existing homeowners sell their home this summer they will simply purchase a new home to live in, this creates a neutral change in demand. However, by moving in to the country, immigrants create net new demand which is vital to the housing recovery. Hence, immigrants are playing an important role to the current housing recovery.
The current population of the U.S. is approximately 317 million, Business Insider highlighted that the future influx of immigrants is expected to grow by 800,000 to 1 million people per year which is a population increase of 0.25% to 0.3% per year.
Upon arrival all immigrants are in need of housing which at the very least affects the market for rental housing. Business Insider states that "Homeownership rates aren't very high for new immigrants, especially relative to those born in the U.S," but over time as immigrants become established "ownership rates for households where the head was foreign born can go up to 54-55%."
Homeowner is a slow process for many immigrants as they arrive to the USA with few assets. Thus, immigrants begin by purchasing less expensive housing which helps certain neighborhoods with empty vacancy which coincidently also lowers the local crime rate.
Peoples Home Equity is happy to help all prospective homebuyers who have only recently managed to save enough money for a property. Peoples Home Equity's loan officers also come from various immigrant backgrounds and understand the confusion that come with the mortgage application process, but they are always ready to help.
If interested in securing a competitive, lower rate mortgage, consider speaking with a Peoples Home Equity loan officer today at: 262-563-4026