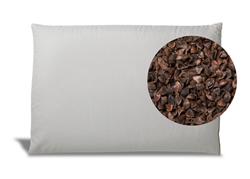 Customers have been filling up our inbox for months with questions about organic products, and after much research and development, we decided to release this pillow to the delight of many
Evansville, IN (PRWEB) June 23, 2014
A need for organic products is on the rise in all industries, and the luxury bedding business is no exception. Online luxury linen retailer ExceptionalSheets.com is announcing their first 100% organic product with their USA made Organic Buckwheat Pillow. These 100% organic buckwheat pillows are filled with the shells of buckwheat seeds and the company says that they are very happy to be accommodating their customers' desires to be environmentally conscious.
"Customers have been filling up our inbox for months with questions about organic products, and after much research and development, we decided to release this pillow to the delight of many," says Customer Service Lead Brett Houchin. "Providing 100% organic products to our customers has been a goal for us since the inception of the company, and we are delighted to be making this a reality," he says.
The Buckwheat pillows offer many benefits that set them apart from other pillows on the market. The Buckwheat pillows are malleable and conform to and support the head and neck in any position. They do not try to return to their own predetermined shape and do not flatten like conventional pillows. They also have improved ventilation because the buckwheat hulls allow air circulation, which prevents heat build up in your pillow.
Houchin says that these products are perfect for anyone using pillows to relieve head or neck pain. "These pillows provide a huge amount of support to the head and neck muscles that will deliver relief from muscle and nerve tension in this area," he said. "Many people have found relief from neck and shoulder pain as well as from tension headaches and other discomforts using these pillows," he continued.
The buckwheat pillows have an added incentive to buyers because of their status as a 100% organic item. Most buckwheat pillows, while filled with organic filling, are encased in a non organic ticking. The Exceptional Sheets Buckwheat Pillow is not only filled with organic buckwheat, but are also encased in a 100% organic cotton casing.
Kyle Schmidt, Business Development Associate for Exceptional Sheets, says that the desire for these types of products is there and the company is in plans to grow this category.
"The massive success of the buckwheat pillow has prompted us to start developing other organic products and we plan to offer 100% organic sheets, towels and mattress pads in the near future," Schmidt said.
The company also reminds customers that these products are made in the United States and are helping to create jobs at home. "While most companies are sending their manufacturing overseas, Exceptional Sheets continues to sell pillows that are made right here in the United States," said Schmidt.
About ExceptionalSheets.com
Exceptional Sheets is an American Veteran owned company out of Evansville, Indiana and features Egyptian cotton sheet sets, mattress pads, duvet covers, comforters, pillows and pillow cases. Daily deals are featured each day of the week for those customers interested in the lowest possible prices on the finest luxury linens in the world. To take advantage of daily offers, current or future customers should visit their website or call the customer support line at 1-800-977-7433.