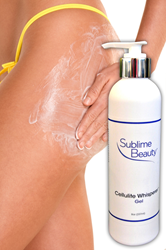 It's time to reduce cellulite with the Sublime Beauty® Cellulite Whisperer® products.
St. Petersburg, FL (PRWEB) June 24, 2014
It's time to reduce cellulite - summer is officially here.
Sublime Beauty® offers the Cellulite Whisperer® line (gel and lotion) along with a website devoted to strategies for cellulite reduction. Daily Skin Brushing is one of the highly recommended strategies.
The Cellulite Whisperer® Gel is currently on sale at 25% off, but the sale ends soon. Use coupon code 2CELLQZW at either Amazon or at the SublimeBeautyShop store during checkout to benefit.
The Gel includes clinically tested products (many organic) that help dissolve toxins, rebuild cell walls and smooth skin.
For instance, the ingredient Gotu Kola enhances the structure of the connective tissue surrounding fat chambers. 89% of women in a 3-month cellulite study showed positive results thanks to Gotu Kola.
Other ingredients in the Gel include arnica, aloe vera, horsetail plant, comfrey, hyaluronic acid, Vitamins A & E and Dead Sea concentrates. Each serves an important function in the reduction of cellulite.
ABOUT: Sublime Beauty® is a quality skincare company that focuses on products to "Age Younger". Products help to boost collagen, hydrate, relax wrinkles and improve skin. A niche includes healthy Skin Brushes. The company webstore offers free standard shipping and a VIP Club. Products also available on Amazon.