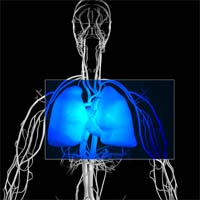 Talc pleurodesis might be preferable considering the fewer complications and shorter hospital stay...
Raleigh, NC (PRWEB) June 25, 2014
UK researchers studying a procedure called Video-Assisted Thoracoscopic Partial Pleurectomy (VAT-PP) say the traditional, less invasive approach for treating pleural effusions has several advantages for mesothelioma patients. An article on the new findings has just been posted on the Surviving Mesothelioma website. Click here to read it now.
Doctors from multiple clinical research centers in the UK have concluded that VAT-PP for mesothelioma-related effusions produces more complications, longer hospital stays, and costs more than talc pleurodesis, a minimally invasive procedure that fills the pleural space with talc.
"VAT-PP is not recommended to improve overall survival…and talc pleurodesis might be preferable considering the fewer complications and shorter hospital stay associated with this treatment."
The MesoVATS study, published in The Lancet, found that mesothelioma patients who had talc pleurodesis stayed in the hospital less than half as long as those who had VAT-PP (median of 3 days vs. 7 days). They also had half as many surgical complications and fewer respiratory problems afterward.
"We often talk about the advantages of advanced treatments for mesothelioma but this may be a case where the tried-and-true treatment, which is less costly and more readily available, may be just as helpful to patients as the more advanced approach," says Surviving Mesothelioma Managing Editor Alex Strauss.
For all the details on the study, including the rates of complications for each procedure, see Traditional Effusion Treatment Produces Fewer Complications for Mesothelioma Patients now available on the Surviving Mesothelioma website.
Rintoul, RC et al, "Efficacy and cost of video-assisted thoracoscopic partial pleurectomy versus talc pleurodesis in patients with malignant pleural mesothelioma: an open-label, randomized, controlled trial", June 14, 2014, Epub ahead of print, http://www.thelancet.com/journals/lancet/article/PIIS0140-6736(14)60418-9/abstract#.
For nearly ten years, Surviving Mesothelioma has brought readers the most important and ground-breaking news on the causes, diagnosis and treatment of mesothelioma. All Surviving Mesothelioma news is gathered and reported directly from the peer-reviewed medical literature. Written for patients and their loved ones, Surviving Mesothelioma news helps families make more informed decisions.