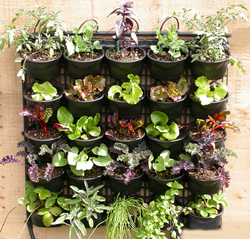 ....Give a man a fish and you feed him for a day; teach a man to fish and you feed him for a lifetime.
Blaine, WA (PRWEB) June 24, 2014
The Non-Profit Vertical Farmers Society entered into the Nature's Path & Organic Gardening Magazine's "Gardens for Good " grant program today where they hope to receive enough "Love its" for their Free Vertical Farm Systems to grant 200 Vertical Farm starter kits to any Community garden, Non-profit, Feeding program or School, voting is here: Free-Vertical-Farm.org.
Lovers are allowed to vote once a day, every day, until July 7, 2014 12:00 am (US/Pacific Time).
The Society's vision is to see organic food grown all year round, easily, but in a high density method harvested by Community volunteers, planting it forward by donating fresh, organic produce to all those in need whether it be high density Urban areas or isolated Communities where nutrition from fresh produce is scarce and costly.
Any feeding program that serves low income adults, children or families in the form of a soup kitchen, food bank, emergency pantry, before or after school feeding program, shelter, similar type program or School can join the Community and request their own free Vertical Farmers starter kit with SeedGems™ & Reel Gardening™ Seed Tapes.
The starter vertical farm wall consists of five 6 in. x 2 ft, 6 in. modular frames with 5 pots each that simply connect together in any direction and require minimal watering from only one water line on the top row. The Vertical Farmers wall system is made from U.S.A. recycled plastic and uses organic topsoil, sustainable coco-coir or sphagnum peat moss grow mediums requiring only 2 cups media per pot.
Each Vertical Farmers project can be self financed by Sponsors and from the "grass roots" sale of educational Seed Tape™ and SeedGem™ gift boxes which can be custom printed for each project and are assembled in Canada, the USA, UK and South Africa by Unemployed Mothers, Indigenous Peoples, the Underprivileged or People with Disabilities. SeedGems™ and Reel Gardening™ Seed Tapes (see Richard Branson's Virgin Unite Foundation) include organic, non-GMO seeds in a biodegradable box.
The Vertical Farmers Society operates with the support of Corporate Sponsors, please visit our .org site for sponsorship information. For more information on the vertical walls, SeedGems™ & Reel Gardening™ Seed Tapes please visit http://www.vertical-farmers.com.