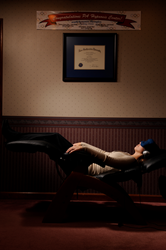 It is crucial that people learn how to initiate a relaxation response to help the body return to normal body functions.
Pittsburgh, PA (PRWEB) June 23, 2014
The world has become overrun with stress and anxiety. People are being bombarded with stress at home, stress at work and even their own person stress that no one else knows about. Pittsburgh Hypnosis Expert and Olympic Gold Medal winning mental training coach has been helping clients reduce stress and anxiety for years. He has had years of experience in working with Olympic and Professional athletes to help them alleviate the anxiety that goes along with competing at such a high level of competition such as the Olympics, the Super Bowl, the World Series or the Stanley Cup. Throughout his years of work with athletes and clients in his Pittsburgh, PA based, PA Hypnosis Center, he has developed a system of mental training and hypnosis called, the "33 Method" that encompasses a unique combination of hypnosis, psychology, nlp (neuro-linguistic programming, visualization and imagery. The "33 Method" was propelled into the National Spotlight when it was used to help Vincent Hancock and Glenn Eller win Gold Medals at the 2008 Summer Olympics in Beijing, China and then again when Hancock repeated his Gold Medal Performance in London in 2012. Vitchoff invented the "Original Mind Gym" so that his athletes would actually have a physical place or location where they could go to practice their mental training with just as much if not more precision than they use to train their bodies. Vitchoff equipped the Olympic Training Facilities with the Original Mind Gym so that his athletes could continue their mental preparations right up until it was time to compete.
Vitchoff has now, once again, taken the "33 Method' to a whole new level by adding in a new dimension of "brain tones" which he uses to stimulate the relaxation center of the brain to help his clients prepare for their mental training and hypnosis sessions. Vitchoff worked hand in hand with experts in the field of brain study at Harvard University to determine what effect specific types of tones had on the brain and developed new technology that would facilitate the use of the tones with his clients in conjunction with his 33 Method mental training and hypnosis sessions. The only way to measure the success of treatment for stress and anxiety is through actual client experiences. Vitchoff's 33 Method has improved the lives of hundreds of adults and children throughout various walks of lives. Names of the following families may have been altered to protect their privacy, however, the stories are real and the results from this revolutionary new treatment are real.
Tina Palmer wrote a letter to PA Hypnosis Center, thanking Dan Vitchoff for helping her 11 year old daughter overcome anxieties related to being bullied at school over several years. She had no idea how bad the anxiety from the bullying had been until she discovered her daughter had been cutting herself, which unfortunately, is a growing concern among pre-teen and teen age children. "Our daughter had hid her problems at school with being bullied. It wasn't until we found her hurting herself by cutting that we found out what was going on. We immediately contacted her pediatrician for help. She then had professional care from a psychiatrist and a councilor. Was put on mediation to help relieve the stress she was feeling. After the first few weeks of care, she began hurting herself in more areas of her body. My husband and I decided we needed more help and looked into adding additional ways to help our daughter; this is how we found Daniel Vitchoff. After her second visit with him, our daughter completely stopped hurting herself. After months of treatment she has done wonderfully. She is positive, more outgoing and is carrying straight A's in school. My husband, daughter and I are very grateful that we looked into additional treatments available and are so extremely happy and forever thankful to Dan Vitchoff for helping us beyond what we could do for our daughter. I could never 100% put into words how PA Hypnosis Center has changed all of our lives for the positive. Our daughter is now 13 and the bullying began when she was 11."
Tina's daughter was struggling with the heartbreak and anxiety that so many children suffer from and with Vitchoff's help she was able to overcome this anxiety and take back control of her life and her future, she truly is a remarkable young woman and an inspiration to children everywhere that are struggling with bullying and anxiety.
In this constantly connected world of smart phones, emails, text messages and around the clock conference calls and business meeting and trying to juggle work and family, adults are also experiencing more stress and anxiety than ever before. Vitchoff has successfully used his "33 Method" in conjunction with the brain tones to help several of his clients reduce stress and anxiety. He has also worked with several soldiers returning from war to help them address issues related to PTSD or Post Traumatic Stress Disorder. Vitchoff explains, "When a person is experiencing high levels of stress, research has showed an increase in cortisol levels in the body. When the body goes into the fight or flight response which is a normal response to stress and anxiety cortisol, also known as the stress hormone is released from the adrenal gland in the kidneys. It is crucial that people learn how to initiate a relaxation response to help the body return to normal body functions. When the relaxation response is not initiated the body continues to release higher levels of cortisol. Over time high levels of Cortisol, also known as the stress hormone in the body have been linked to several health complications such as impaired cognitive functions, suppressed thyroid function, blood sugar imbalances, decreased bone density, muscle atrophy, higher blood pressure, lower immune system and higher risk for heart disease, stroke and diabetes."
According to Dan Vitchoff, Pittsburgh Hypnotist and Mental Training Coach, many people turn to food, smoking or alcohol to help cope with stress which in turn causes more stress.
As Vitchoff mentioned, many people suffering from anxiety whether it is generalized anxiety or PTSD turn to alcohol to self-medicate which ultimately leads to more stress and anxiety. Luanne Smith had recently been 302ed, even jailed as a result of her 25 year struggle with alcoholism. She estimated that she would drink about a fifth of whiskey a day. She had been to AA, through various treatment programs and nothing had worked. She was a teacher, married with 3 children and could not seem to gain control over her drinking on her own. After working with Dan Vitchoff and PA Hypnosis Center she says, "Today, I have embraced my life, I feel fulfilled and happy. I am truly grateful for all of Dan's help. I truly believe that after my sessions with Dan Vitchoff a true miracle has occurred. A change has taken place in me." Luanne has been sober since August of 2011.
Vitchoff uses his brain tones and "33 Method" Mental Training and Hypnosis Programs to re-wire the brain to initiate that relaxation response so that the client can experience an immediate sense of relief, comfort and relaxation. In addition to overcoming stress and anxiety, the "33 Method" can also be used to help people lose weight, stop smoking, reduce alcohol consumption, overcome fears, phobias, nail biting, sleep issues, insomnia, improve confidence, enhance sports performance, public speaking, relationship issues and more.