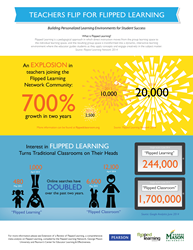 Mars, PA (PRWEB) June 23, 2014
Today at FlipCon14, the seventh annual gathering of flipped educators from around the world, the Flipped Learning Network™, George Mason University and Pearson's Center for Educator Learning & Effectiveness released the 2014 Extension of a Review of Flipped Learning. Building on a 2013 comprehensive review of the literature on flipped learning, this updated literature review provides further evidence that this growing instructional model has the capacity to positively impact student outcomes, including achievement and engagement.
The flipped learning model of instruction is gaining in attention and adherents among teachers and administrators in U.S. K-12 and postsecondary classrooms. In this model, some or most of direct instruction is delivered outside the group learning space using video or other modes of delivery. This makes class time available for students to engage in hands-on learning, collaborate with their peers, and evaluate their progress. Teachers can provide more targeted one-on-one assistance, guidance and inspiration. The intentional shift is from a teacher-centered classroom to a student-centered learning environment.
According to a recent survey, awareness and implementation of this instructional model is exploding in the United States. A 2014 survey, conducted by the Flipped Learning Network™ and Sophia Learning, revealed that nearly 100 percent of teachers recognize the term and almost 80 percent indicate they have "flipped" a lesson in the last school year.
The new extended literature review expands the evidence based on the instructional model to include recently published studies, providing educators with the most up-to-date information about flipped learning. Eleven new indicators for educators to self-assess their classroom engagement in flipped learning are included as well as an overview on the changing perceptions of teachers, administrators and students over the past year. An analysis of implementations and results in K-12 schools, colleges and universities is also included.
Flipped Learning Network's Executive Director Kari M. Arfstrom, Ph.D., said, "Creating active, engaged and learner-centered classrooms is the goal of the thousands of teachers around the country who are exploring the use of flipped learning with their students. The new studies included in this year's literature review reveal that many are seeing a real impact from teaching in this way and that with support, such as professional development, they can be even more successful."
For example, two math teachers from Niagara Falls High School in New York demonstrated an impact on student achievement. They flipped their classes in 2013 to use class time for more applied activities and individualized instruction. Both were encouraged by their students' performance on the New York State Regents Examinations. After implementing the flipped approach, 83 percent of students in the honors Algebra II/Trigonometry class passed the exam compared with 71 percent the previous year and in the general Algebra II/Trigonometry class, 55 percent of students passed the exam compared with four percent the previous year.
Colleges and universities are also seeing positive results using the flipped model at both the undergraduate and graduate level. In a case study described in the review, a professor at Capital University in Ohio implemented a partially flipped learning model in an undergraduate statistics course for social science majors. In the flipped sections, exam scores increased, on average, nearly seven points compared to the previous year while final grades in the course increased, on average, nearly 10 points.
Co-author of the review and head of Pearson's Center for Educator Learning & Effectiveness Katherine McKnight, Ph.D., said, "The team of collaborating researchers agrees that continued research and evaluation will be required, but current studies support the potential of the flipped learning model. The model focuses teachers on how they use instructional time, maximizing their use of learning activities both in- and outside of the classroom. A number of well-designed studies testing the impact of the flipped model on student learning suggest a positive impact."
The paper was authored by Arfstrom and Pearson's McKnight as well as Jessica Yarbro and Patrick McKnight, Ph.D., George Mason University.
The 2014 Extension of a Review of Flipped Learning, as well as the original review from 2013 are available for free download at http://researchnetwork.pearson.com/flipped.
About Flipped Learning Network
Founded in 2012, the mission of the Flipped Learning Network™ is to provide educators with the knowledge, skills, and resources to successfully implement Flipped Learning. The goals of the FLN are to provide professional learning opportunities; conduct, collaborate and disseminate relevant research; and act as the clearinghouse for distributing promising practices for current and future "flipped" educators. The FLN's online professional learning community has more than 20,000 members. For more information, visit http://www.flippedlearning.org.
About George Mason University
Virginia's largest public research university, George Mason University is an innovative, entrepreneurial institution with global distinction in a range of academic fields. Located near Washington, D.C., Mason provides students access to diverse cultural experiences and the most sought-after internships and employers in the country. Mason offers strong undergraduate and graduate degree programs in engineering and information technology, organizational psychology, health care and visual and performing arts. With Mason professors conducting groundbreaking research in areas such as climate change, public policy and the biosciences, George Mason University is a leading example of the modern, public university. For more information, visit http://www.gmu.edu.
About Pearson's Research & Innovation Network
To help address the most pressing questions facing teachers and students, Pearson brought together top education experts in the Research & Innovation Network with the mission to research and invent capabilities and tools educators need to create engaging, meaningful, personalized learning that leads to student success. The Research & Innovation Network is led by Dr. Kimberly O'Malley, Senior Vice President of Research and Development, and supports six centers: the Center for Digital Data, Analytics & Adaptive Learning; the Center for College & Career Success; the Center for NextGen Learning & Assessment; the Center for eLearning; the Center for Educator Learning & Effectiveness; and the Center for Product Design Research & Efficacy. For more information about the Pearson's Research & Innovation Network, visit researchnetwork.pearson.com.
About Pearson
Pearson is the world's leading learning company, with 40,000 employees in more than 80 countries working to help people of all ages to make measurable progress in their lives through learning. For more information about Pearson, visit http://www.pearson.com.
Contact:
Flipped Learning Network: Kari Arfstrom - kari(at)flippedlearning(dot)org, 703-399-6608
George Mason University: Michele McDonald, mmcdon15(at)gmu(dot)edu, 703.993.8781
Pearson: Stacy Skelly, stacy.skelly(at)pearson(dot)com, or (800) 745-8489