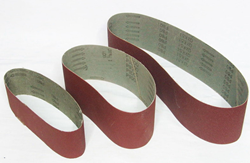 Zhengzhou, China (PRWEB) June 27, 2014
iAbrasive, a professional abrasives online trade platform, gives a few suggestions to abrasives manufacturers about how to choose the right bonding agent during abrasives polishing and grinding process on 24th, June.
Generally speaking, a polishing tool is composed of three parts--abrasive grain, substrate and bonding agent, among which the bonding agent serves as a medium that attaches abrasive grains to substrate surface. So it is quite important for abrasives manufacturers to choose the right bonding agent that is closely related to product quality.
Before choosing a bonding agent, it is necessary for abrasives manufacturers to know different bonding materials applied in grinding tools and polishing tools. Epoxy resin glue and thermoplastic phenolic resin are perfect choices in grinding tool application; while for a polishing tool, thermoplastic phenolic resin and natural shellac resin mixed with proper solvent can be the best option.
In addition, to achieve a better grinding or polishing effect as well as improve working efficiency, users have to keep in mind that bonding materials applied in grinding tool production will achieve a better effect with low viscosity and good fluidity; while thermoplastic phenolic resin applied in polishing tool production does better in cold molding process. See the original article at: http://www.iabrasive.com/articles/bonding-agent-applied-in-polishing-and-grinding.
If you are interested in abrasives and diamond tools product, please visit the official site of iAbrasive: http://www.iabrasive.com/, where all kinds of abrasives products are on display.