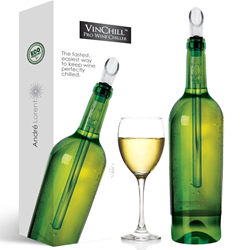 The VinChill Wine Chiller features two unique design elements that set it apart from similar products on the market.
Victor, NY (PRWEB) June 26, 2014
Last year, Andre Lorent Lifestyles created a great deal of excitement in the wine community when it released its VinLuxe Wine Aerator. The company has been featured in Frommer's Travel, the Miami Herald, Newsday, the Chicago Daily Herald and Worth magazine. Now Andre Lorent Lifestyles is following the VinLuxe with the innovative VinChill Wine Chiller and is marking the release with a commitment to donate a percentage of sales to childhood hunger programs.
The VinChill Wine Chiller features two unique design elements that set it apart from similar products on the market. The first is its chill stick, which waits in the freezer until the consumer is ready to insert it into their bottle of wine. The chill stick keeps wine at a perfect temperature for up to an hour, then is simply rinsed off and put back into the freezer for the next use.
The second important design feature is the built-in pour spout. With other wine chillers, the chill stick must be removed before pouring the wine, which creates a mess and wastes wine. The VinChill chill stick has a built-in spout that allows users to pour their wine into glasses while the chill stick remains in place.
The VinChill Wine Chiller not only keeps wine perfectly chilled, but does so without the muss of ice buckets or the fuss of going to the refrigerator every time a glass is needed. The chill stick makes the VinChill Wine Chiller perfect for picnics, barbecues, concerts in the park, travel and any occasion where portability is a benefit. That portability is one of the things that made the VinLuxe Wine Aerator a best-seller on Amazon and the two products are excellent companions for each other.
Andre Lorent Lifestyles has developed a reputation not only for its innovative accessories but also its commitment to supporting non-profit groups through donating a portion of the company's sales. The company is excited about the opportunity to support the fight against child hunger in the US with the release of the VinChill Wine Chiller.
The VinChill Wine Chiller is being sold exclusively through Amazon and is backed with a 100% Lifetime Quality Guarantee.
Andre Lorent Lifestyles is a luxury accessories company specializing in upmarket travel and lifestyle products. For more information, contact Andre Lorent Lifestyles via email at support(at)andrelorent(dot)com, by visiting the company website at http://andrelorent.com/vinchill-wine-chiller/.