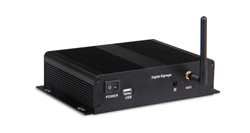 (PRWEB) June 23, 2014
Recently, Digital-Signage-China.com, a renowned digital signage supplier, has released its new designs of DSP-100E Digital Signage Players. Also, the company is now launching a promotion for its useful players. All the company's current and prospective customers can take advantage of this special offer. Now, all its brand new DSP-100E Digital Signage Players are offered at extremely affordable prices.
"As a matter of fact, I feel very excited to release our new DSP-100E Digital Signage Players. There are various kinds of signage players offered on our website now. If you are looking for excellent, affordable items, you can visit our website before making any shopping decision. All our items are offered at reasonable prices, and they can offer great performance," the company's sales representative says.
Along with the low prices, all clients can get a discounted shipping fee. All Digital-Signage-China.com's products feature quality materials, elegant looks and outstanding performance. What's more, friendly service and fast delivery are also provided in its online store.
In the near future, the company will launch a big sale for its other items. For customers who are looking for affordable digital signage products, its website is the best platform. Digital-Signage-China.com's members sincerely want to help worldwide clients to get what they need without paying too much.
About Digital-Signage-China.com
Digital-Signage-China.com is a well-known digital signage technology company with the eligibility of production, installation and maintenance of digital signage products. The company has much experience in the industry, and its customers are provided with the best resources and professional tips. It aims to offer all kinds of high end digital signage products for the global market.
For more information about the business and its digital players, visit http://www.digital-signage-china.com/.