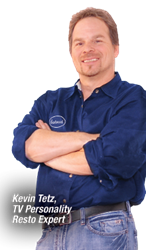 Hands-On Cars is fun to make and informative, and we all hope it's as much of a blast for others to watch as it is for all of us to create!
Pottstown, PA (PRWEB) June 23, 2014
The Eastwood Company and television host / automotive instructor, Kevin Tetz have teamed up to provide an exciting new automotive web series named Hands-On Cars. Hands-On Cars revs up a format that entertains and educates, as Tetz tackles project vehicles, visits the best hot rod shops in the country, attends national events, and raises a little hell. New episodes of Hands-On Cars will be released each month on Eastwood's video channel.
The first episode of Hands On Cars introduces viewers to Tetz's latest project, which has been dubbed "Zed Sled". "Zed Sled" is a well-worn 1978 Z-28 Camaro, that Tetz will transform into a pro-touring beast, all while working on a budget. Tetz walks viewers through the process of selecting and validating the right project vehicle, as well as shares his tips and tricks for building a show car on a budget. For inspiration, Tetz visits Greening Auto in TN, home of 2 Ridler winners and 4 Great-Eights. Throughout the season, Tetz will visit events and hot rods shops across the country, to give you the latest trends.
"Hands-on Cars is very special, in that it's an original concept that I've worked very hard with the Eastwood team to create," stated Kevin Tetz, host of Hands-On Cars. "We wanted to provide a short form, but action packed series designed for the web without the typical TV trappings… short segment lengths, and many other restrictions that conventional TV has to fall in lock-step with. The Internet is a very exciting platform right now, and Hands-On Cars is just one example of that. I am so excited to contribute the experience I have gained over nearly 13 years of hosting conventional TV shows, and it feels fantastic to be free of the barriers that go along with network program rules. Hands-On Cars is fun to make, fun to watch, and informative, and we all hope it's as much of a blast for others to watch as it is for all of us to create!"
Eastwood markets unique tools and supplies for repair, restoration, and modification of cars, trucks and motorcycles, as well as for home and garage DIYers. Founded in 1978, Eastwood constantly strives to develop new products to serve the home automotive hobbyist, as well as individuals and organizations focused on the restoration and preservation of automobiles and motorcycles. For more information, to set up an interview with Kevin Tetz or for hi-res photos, please contact Nick Capinski at ncapinski(at)eastwood(dot)com or (610) 705-5404.