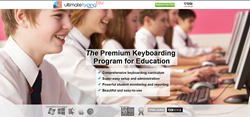 Schools can easily make touch typing practice... part of any curriculum as it only takes minimal effort to supervise students' progress.
New York City, NY (PRWEB) June 24, 2014
Ultimate Typing™ EDU is the newest keyboarding program by eReflect, leader in self-education programs. The program has been in the making for months and it is now officially available for schools and other educational organizations worldwide.
The software is available on the Cloud, forever transforming how touch typing is taught at schools. Teachers no longer have to grapple with bulky software they need to locally download, they only need to purchase an Ultimate Typing™ EDU subscription, set up the user accounts (which takes only a few minutes), and allow students to practice with the system's lessons and games.
Ultimate Typing™ EDU is succinctly described by eReflect as "Easy. Effective. Excellent." This phrase highlight how much effort and time were invested in its development. With less than 10 minutes of touch typing practice per day and with a practice schedule of no more than 21 days, students working with Ultimate Typing™ EDU will make quantifiable progress on the speed and accuracy with which they touch type.
This typing program for schools includes a comprehensive range of activities, lessons, and games. It's enriched with video tutorials, progress tracking tools, and an overall multisensory learning experience to advance students' learning. Schools can easily make touch typing practice with Ultimate Typing™ part of any curriculum as it only takes minimal effort to supervise students' progress. The software provides an all-in-one learning experience so that teachers do not have to offer additional activities; the program is a stand-alone system, and a complete touch typing solution for students and schools.
As the first typing teacher program available on the Cloud, Ultimate Typing™ EDU modernizes elementary school education and makes it possible for more schools to offer this essential skill to the workforce of tomorrow. Full of advanced features and tools, students that use Ultimate Typing™ to learn to touch type will enjoy a premium learning experience that will soon transform them into pro typists. For a better understanding of the software's features and how it compares to other typing tutors, eReflect offers a comparison table to make things easier for interested clients here, http://www.ultimatetyping.com/ultimate-typing-edu.
*********
For more details on Ultimate Typing™ EDU please visit [http://www.ultimatetyping.com/schools.
About Ultimate Typing™
Ultimate Typing™ software is designed specifically for the improvement of typing skills. Created by eReflect, a world leader in e-learning and self-development software, Ultimate Typing™ has been informed by the latest developments in the science of touch typing.
Since its creation in 2006 by Marc Slater, the company has already catered to over 112 countries all over the world, offering products with the latest cutting-edge technology, some of which are among the world's most recognized and awarded in the industry.