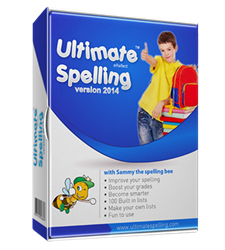 When done right, spelling practice is not boring or repetitive, but can be a lot of fun.
New York City, NY (PRWEB) June 25, 2014
On May 29th, Sriram Hathwar and Ansun Sujoe were crowned the 2014 Scripps National Spelling Bee champions. The two finalists out-spelled all other contestants, and finished competing against each other in a nerve-racking faceoff. In the end, the judges awarded both of them the top prize, making them the first two spelling bee co-champions in 52 years. eReflect, developer of Ultimate Spelling™ software, congratulates these two young men who've proved that spelling is a skill they've truly mastered.
Sriram Hathwar is a seventh grader from Texas and Ansun Sujoe is from Painted Post, New York. Like the other pro spellers in the championship, the students have spent many hours working on their spelling skills. It can be hard work to learn the more obscure words and their spelling, notes eReflect. It's a sentiment shared by one of the champions, Sriram Hathwar, who commented that the English language is challenging given how many words it has borrowed from other languages.
The two champions also proved that spelling is fun. While many students worldwide find English spelling challenging or even boring to learn, the success of these two champions shows that even younger students can be passionate about spelling. These two young men are true masters of spelling skills, and eReflect, developer of spelling software Ultimate Spelling™, congratulates both of them for their shared victory. eReflect hopes that their love and passion for language will inspire a new wave of spelling enthusiasts worldwide. The spelling skills demonstrated by all of the competitors in the spelling be show that hard work pays off and that learning to spell has many rewards. When done right, spelling practice is not boring or repetitive, but can be a lot of fun.
281 boys and girls aged 8 to 15 participated in the preliminaries for the Scripps National Spelling Bee held May 28 in Maryland. The finals took place May 29 in front of a large audience and interested viewers on television and social media around the world.
***
For more information about how Ultimate Spelling software can improve spelling performance for you and your family, please visit the official website at http://www.ultimatespelling.com.
About Ultimate Spelling™
Ultimate Spelling provides a modern and easy to use spelling software that has been designed with one goal in mind – making children want to learn.
It is a fast and easy way to master even the most complicated spelling, without the need to write long lists or complete boring tests.
In fact, Ultimate Spelling provides more than just spelling help. It is a complete educational resource that boosts all level of a child's literacy.
Containing a personal computer tutor, Ultimate Spelling is the most realistic step-by-step guide to flawless spelling ability.