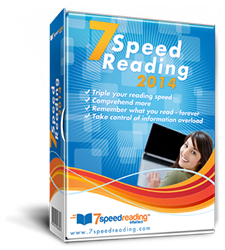 Speed reading can help people achieve personal and professional success ...
New York City, NY (PRWEB) June 26, 2014
Speed reading can help people achieve personal and professional success, and 7 Speed Reading™ software is the appropriate tool to use, according to recent reviews of the software. Top Ten Reviews revealed their new evaluation of 7 Speed Reading™, highlighting the program's user-friendliness and its effectiveness, essentially naming it a top speed reading improvement program.
In a speed reading software review, the editors of Top Ten Reviews have put to the test a range of software products like Ace Reader, EyeQ, and The Reader's Edge in their search for the most effective speed reading program. The editors looked for software that not only lets people read faster but one that can also improve comprehension of what is being read. With a consistently higher score than any other software, 7 Speed Reading™ ranked first in its category. Top Ten Reviews called it a user-friendly and feature rich software that is suitable for all ages.
7 Speed Reading™, with its total of 600 ebooks to support reading skills, received a 10/10 in terms of reading levels and activities available. The editorial team at Top Ten Reviews found its step-by-step approach to learning and its balanced focus on both reading comprehension and speed a desirable, unique feature.
The software's progress tracking technology, along with the opportunity for multiple users to create and maintain their own account for practicing how to speed read, gave Top Ten Reviews two more good reasons why they should rank 7 Speed Reading™ at the top.
The quizzes, the guided training provided, and the software's across-the-board suitability were among the most highlighted software features the editors praised. In terms of methods and materials, the 7 Speed Reading™ developers have done a great job, according to the reviewers; the software received a 10/10 score in these categories. From the use of tachistoscope-based tools to paced reading strategies, 7 Speed Reading™ is the most comprehensive speed improvement software to date, offering users of all ages and reading levels the opportunity to boost their reading speed and benefit from it in many ways.
************
For more information about the benefits of using 7 Speed Reading, please visit the official website at http://www.7speedreading.com.
About 7 Speed Reading™
7 Speed Reading is the only modern speed reading software that uses the latest technology to produce superior results.
The software provides its users with a new way to master speed reading that guarantees three times the reading speed along with improved memory and comprehension.
The software is poised as the most comprehensive speed reading system anywhere. It contains seven learning strategies, fifteen software activities, video training, advanced tracking capabilities and many more exciting features.