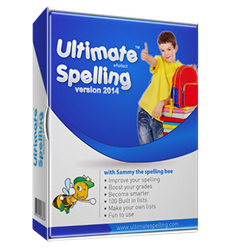 ...evident why practicing spelling is fun when it's done with an efficient spelling program.
New York City, NY (PRWEB) June 28, 2014
TopTenReviews, a dedicated software review site, has recently published its spelling improvement software rankings, and eReflect was pleased to discover Ultimate Spelling™ was ranked at the top spot, receiving a 9.9/10 overall score, proof of its effectiveness in improving spelling skills in children and adults alike.
eReflect's spelling software was considered 100% efficient in terms of features. The reviewers particularly noted the software's word database size and the types of lessons provided, and remarked on the number of games available; they were also impressed by the audio pronunciation tools for words, among other dictionary resources.
TopTenReviews mentions the printable word lists, flash cards and worksheets as important resource given to the user. The progress tracking reports that users can produce and consult is another feature of Ultimate Spelling™ given due attention and praise by the TopTenReview editors. Ultimate Spelling™ offers users tables, charts, and other statistics on quiz-specific progress, on non-mastered words, on timing, and on various other progress tracking activities.
The spelling software review of Ultimate Spelling™ offers a clearer picture as to why Ultimate Spelling™ is considered a top choice in its category. Its features and unrivaled tools and technologies are discussed in detail, making evident why practicing spelling is fun when it's done with an efficient spelling program.
eReflect is proud that Ultimate Spelling™ managed to gain the recognition it deserves. Ultimate Spelling™ ranks first, ahead of Spelling Made Simple and Spelling Blaster. With a mid-range price, hand-picked tools and features, and an efficient learning structure, Ultimate Spelling™ is among the best of the top spelling software products on the market right now, remarked the reviewers.
The games, the interactive interface, and the easy to use lessons and activities make Ultimate Spelling™ an appealing choice for young children who need to improve their orthography. eReflect confirms that the company will continue enriching Ultimate Spelling™ with even more essential features and engaging tools, to ensure it remains relevant and effective for everyone who wishes to boost their spelling skills.
###
For more information about how Ultimate Spelling software can improve spelling performance for you and your family, please visit the official website at http://www.ultimatespelling.com.
About Ultimate Spelling™
Ultimate Spelling provides a modern and easy to use spelling software that has been designed with one goal in mind – making children want to learn.
It is a fast and easy way to master even the most complicated spelling, without the need to write long lists or complete boring tests.
In fact, Ultimate Spelling provides more than just spelling help. It is a complete educational resource that boosts all level of a child's literacy.
Containing a personal computer tutor, Ultimate Spelling is the most realistic step-by-step guide to flawless spelling ability.