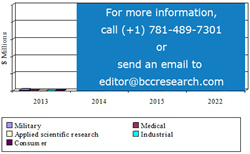 Global Adaptive Optics Market to Reach $40.7 Billion in 2022
Wellesley, Mass., (PRWEB) June 23, 2014
BCC Research (http://www.bccresearch.com) reveals in its new report, ADAPTIVE OPTICS: TECHNOLOGIES AND GLOBAL MARKETS, the global adaptive optics (AO) market is expected to grow to $40.7 billion by 2022, with an impressive compound annual growth rate (CAGR) of 87.9% over a nine-year period from 2013 through 2022. Originally developed in 1953 for astronomical research, AO technology's promise to deliver optical images with unprecedented clarity has found increasing applications across a broad range of industries, including the applied scientific research, military, medical, industrial, and consumer markets.
The medical category, currently the second-largest segment of the AO market, is expected to move at a CAGR of 89.5%, reaching $9.4 billion by 2022. One of the drivers of this growth is the technology's success in in-vivo cell research, which can be extended to real-time patient monitoring.
Moreover, the consumer category, which starts from virtually zero in 2013, is projected to soar from $1 million in 2014 to more than $24 billion in 2022 to dominate the overall market with an extraordinary eight-year CAGR of 253.3% (2014–2022). Indeed, consumer demand will affect all display devices such as smart communication devices and virtual retinal displays. Smartphones or replacement consumer communication devices are expected to experience the greatest growth because of the fact that each individual's eyes have different aberration characteristics. By 2022, self-correcting eyewear will ride the coattails of an ageing global population. The World Health Organization forecasts that by 2020 between two and three billion people will have some form of correctable vision defect.
"The technical success of AO, its promise of reducing the cost of other components, and the core competitive requirement for stable and high quality visual display systems means that the technology will transition into consumer electronics within all display-related market segments," says BCC Research photonics analyst John Bourgein. "It has started to be deployed in ophthalmology and other medical segments, and will be deployed in other industries such as 3-D printing, automotive, smart communications, and machine vision systems."
ADAPTIVE OPTICS: TECHNOLOGIES AND GLOBAL MARKETS provides an overview of the global market for adaptive optics. It includes analyses of global market trends, with data from 2013, projections of CAGRs through 2022, and profiles of key companies in the industry. It balances technical and commercial information, and provides a broad understanding of how AO can be integrated into many different products and industries.
Editors and reporters who wish to speak with the analyst should contact Steven Cumming at steven.cumming(at)bccresearch(dot)com.
About BCC Research
BCC Research publishes market research reports that make organizations worldwide more profitable with intelligence that drives smart business decisions. These reports cover today's major industrial and technology sectors, including emerging markets. For more than 40 years, we have helped customers identify new market opportunities with accurate and reliable data and insight, including market sizing, forecasting, industry overviews, and identification of significant trends and key competitors. We partner with analysts who are experts in specific areas of industry and technology, providing unbiased measurements and assessments of global markets. Our clients include the top companies in industries around the world as well as universities, business schools, start-ups, consulting firms and investment companies. BCC Research is a unit of Eli Research LLC.
Visit our website at http://www.bccresearch.com. Contact us: (+1) 781-489-7301 (U.S. Eastern Time), or E-mail information(at)bccresearch(dot)com.
Data and analysis extracted from this press release must be accompanied by a statement identifying BCC Research LLC, 49-2 Walnut Park, Wellesley, MA 02481, Telephone: (+1) 781-489-7301; Email: editor(at)bccresearch(dot)com as the source and publisher. Thank you.