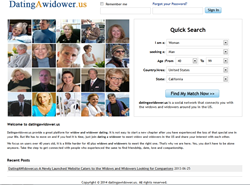 (PRWEB) June 29, 2014
Based on registration data of DatingAWidower.us, a recent report shows that DatingAWidower.us is one of the dating sites available online that provides an incomparable platform for widows and widowers that are over 40 years old.
It is hard for those who have lost their spouses to live through each day. No one around can really understand how they feel, how they should move on through the pains. With DatingAWidower.us, a quickly developed social dating site for widows and widowers, they can now get connected to those who experienced the same to share their feelings and encourage each other to move on bravely. This site was designed to help widowed people ages 40 and above to meet someone who would bring back the color in their life.
DatingAWidower.us knows how hard it is to start a new life after losing someone special in one's life. It feels incomplete and can be tough to face the reality without having that someone who can be one's partner in his or her lifetime. At present, there are numerous dating sites that people can consider. Unfortunately, not all dating sites focus on such a group of individuals with different walks of life. Due to this, DatingAWidower.us was born. It is more than a dating site, DatingAWidower.us offers an exceptional platform for widows and widowers out there in the United States and other countries to get together. They can share their stories in the forum and discuss about how to move on.
DatingAWidower.us, after its launch, has now a large database of members who are enjoying the easy to use website. With the features and support of this website, all of its members highly recommend this dating site to all widows and widowers who are 40 and above and want to make their life much happier by meeting new people who are also open for friendships or relationships. Through this, widows and widowers can find the perfect and right one who could spend the rest of their lives together.
Widows and widowers who are looking for companionship, friendship, dates, and love are welcome to join at DatingAWidower.us. There is no fee for signing up.
About DatingAWidower.us
DatingAWidower.us, a popular widows and widowers dating site, caters to mature singles over forty years old who are widowed. This website is powered by SeniorMatch, which is known as an online dating business for more than thirteen years. The aim of this website is to help widow and widower find friendship, companionship, love, and date, which can let them live a happy life even though they have experienced losing someone special in their life.
To know more information about DatingAWidower.us, please pay a visit at http://www.datingawidower.us/.