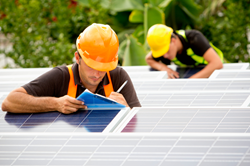 Innovative Solar Systems offers Utility Scale Solar Farm Projects to Global Investors, EPC's, and O.E.M. Partners.
Asheville, NC (PRWEB) June 23, 2014
Innovative Solar Systems is once again blazing paths to create more renewable energy in states like Georgia where ISS will quickly become the number one developer of utility scale solar farm projects in that state like they have become in other states like North Carolina where the company is currently based. John Green, CEO and managing partner of ISS, states that Georgia is a very exciting market for the company as key utility companies in Georgia seem to be progressive in thinking and embracing renewable energy partners like ISS.
ISS is currently the largest developer of large scale solar farm projects in North Carolina with almost 1 Gigawatt of projects in the pipeline for 2014. Like the projects ISS has developed in NC the company plans to concentrate efforts on projects ranging in size from 2MW, 5MW, 20MW or larger in Georgia for 2015 as the company also expands into five other key states where renewable energy makes the most sense and offers the highest returns for investors and buyers of ISS's projects.
ISS has formed strategic partnerships with companies all over the world that demand high quality solar farm projects in renewable energy friendly states like Georgia and North Carolina. Partners at ISS state that the company is expanding at record levels and will be hiring many new executive level positions to keep pace with the massive amounts of solar farm projects that the company has in the works for those new six states that ISS has recently expanded into. For more information on solar farm projects in North Carolina or Georgia or investor relations please give ISS a call today at (828)-215-9064 to learn more.