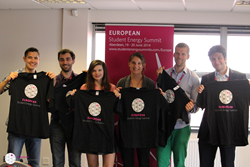 We want to make this world a better place and take every opportunity to do so.
London, Aberdeen, Barcelona (PRWEB UK) 26 June 2014
The innovative clothing printing company is committed to providing sustainable clothing and fashion materials and printing techniques. Partnering with ESES 2014 was a great opportunity to highlight the company's concerns for energy sustainability and responsibility in the way their goods are produced and printed.
Garment Printing is proud to be associated with this event and shares the conference's motto. Powering the future through innovation and ethical business is a good way indeed to enhance the company's image.
On June 19-20, 2014, students from across the globe have met on four different continents to allow young energy minds to tackle the world's energy challenges and bring their ideas to the fight. During these two days, discussions have drawn attention to a number of energy-related sustainability issues. An "innovation jam" session took place during the conference where students were asked to brainstorm ideas about sustainability and how cities of the future should be like. Each team presented their ideas to a panel of judges, including a speaker from the UN's Sustainable Energy 4 All initiative. The winning team were given ESES 2014 T-shirts.
Garment Printing consulted with ESES 2014 to supply bespoke T-shirts tailored to their specific requirements. The summit's management team was particularly focused on sustainability and Garment Printing designed and printed environment-friendly garments to match their needs and exceed their expectations. "We want to make this world a better place and take every opportunity to do so," says Gavin Drake, Director at Garment Printing.
Garment Printing has already shown commitment and dedication to sustainability in recent events by participating in the Fashion Revolution Day in April this year. Offering organic and sustainable clothing alternatives which includes T-shirts made from Bamboo, as well as water based eco friendly inks comes natural to the company, which consistently tries to make the world a greener place.