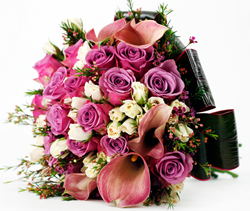 (PRWEB UK) 23 June 2014
London florist Flowers24Hours takes its roses seriously. And like any worthwhile and lasting relationship, their approach to flower cultivation and design involves commitment, passion and lots of love and care. For a company that also handles flower delivery in London the same day, it is a sweet touch that is hard to beat.
Roses are as varied as they are timeless. They are as subtle in their size, shape and colour as the different kinds of love unique to every relationship. Of course for any flower delivery service or person seeking flower delivery in London, red roses are an undeniable classic. But it can be easy to walk into a flower delivery shop and find the same, trite arrangement styles, similar patterns and colours and a repetition that saps just a little bit of the excitement, especially when it comes to roses.
London flower delivery company and online florist Flowers24Hours makes their floral arrangements striking and unique, always. To be sure, they are as fresh in ideas as the flowers that are used in their bouquets. Inspiration stems from the different seasons and nature, cool and warm palettes, as well as the occasion—is it an anniversary or birthday? Or is the customer sending a sign of gratitude, or condolence such as funeral flowers? But this kind of London flowers delivery also borrows from literature, history, world cultures and the possibilities of combining gift delivery with floral arrangement. When someone wants to have flowers delivered in the UK, or send flowers to London from elsewhere in the UK, the expectation is high. This London florist knows it and aims to exceed expectations.
Some of the best arrangements of roses take regal and divine inspiration: not only do they exude a delightful fragrance wherever they sit, but they offer a queen's elegance, an uplifting aura for any who enter the room. The Queen Catherine, eleven gorgeous red roses combined with bright green foliage, is the floral embodiment of love and a "true vision of loveliness." The heavenly Botticelli Angel, meanwhile, combines creamy white roses with lovely lilac freesias.
Another royal treat, the lovely Anastasia arrangement uses rich red and white roses. Its "childlike simplicity" suggests a devout loyalty and innocence; meanwhile the bold contrast between the red and white roses—striking, and even commanding, to the eye—is "imperial" in tone. The Shocking Pink! and A Kiss in a Box revel in the new popularity of pink roses—these little gems are adorable tokens of affection and make great gifts.
Flowers24hours are proud to introduce the launch ahead of the busy summer season. Responding to its customer's best interests, the London digital florist consistently aims to improve its catalogue in creating brand new unique flower gifts to its line. As a same day flower delivery company, Flowers24Hours.co.uk makes it easier and more convenient to be more impromptu when it comes to sending roses or any flower delivery in London same day. Many of their customers also opt to add to the surprise—to buy gifts online and include either a bottle of champagne, fine wine or gourmet chocolates. Still more customers have chosen to peruse the Flowers24Hours' catalogue and order gifts online. Offerings range from gourmet food hampers to Spa or Bath baskets, to cuddly toys and balloons that suit any occasion.