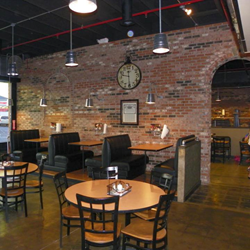 The ladder back chair is the most popular restaurant chair in America
Hillsboro, OH (PRWEB) June 23, 2014
Leading restaurant furniture manufacturer and distributor Affordable Seating recently helped Giovanni's Pizza Power in Hillsboro, Ohio redesign its dining room seating by giving it a fresh look with new booths, commercial chairs, custom laminate table tops and table bases.
Hillsboro Giovanni's opened in July of 2012 by Pizza Power Limited. Business partners Todd Crabtree and Ryan Carpenter found that the town of Hillsboro, Ohio was a perfect place to expand the Giovanni's brand. During the first year, it became very clear that residents wanted more of a dine-in experience. In October of 2013, the expansion of dining, banquet and game rooms reached completion along with some large screen televisions to enhance the customer's dining experience. Hillsboro Giovanni's strives to be a place where great food, cold beverages and top notch service mix with an atmosphere like no other in the area. Giovanni's Pizza Power also has restaurants in Kentucky, Virginia, North Carolina and West Virgina.
The owners of Giovanni's were looking to replace its current seating with something that would be more comfortable for families. They chose to go with restaurant booths because their popularity with customers due to their comfort and the privacy they give diners. "As a restaurant that serves many people in the community and experiences heavy traffic throughout the day, Giovanni's Pizza Power was looking for dining booths, restaurant chairs and tables that would improve the décor and be popular with their customers," Affordable Seating sales representative David explained.
The owners decided to go with Affordable Seating's Quick Ship 6 Channel Booth. The booth sells for $220 on Affordable Seating's website and can be delivered in 7 – 10 days. All of Affordable Seating's restaurant booths are proudly made in the USA by skilled craftsmen. Affordable Seating has a wide selection of restaurant booths in many shapes, colors and fabrics and can also be custom made in any shape, size or fabric.
For additional seating the owners went with Affordable Seating's Metal Ladder Back Chair with black frames and solid wood seats with a custom finish. Affordable Seating sells the Metal Ladder Back Chair for $31.50. A matching Metal Ladder Back Bar Stool is also available for $49.99. "The ladder back chair is the most popular restaurant chair in America," remarked David.
To go with the restaurant chairs and booths, the owners ordered Custom Laminate Table Tops with T-Mold Edge. The attractive table tops are extremely durable and come in many sizes. Prices start at $40. They also bought X Prong table bases which are sold separately.
To view Affordable Seating's full selection of restaurant chairs, bar stools, booths, tables and patio furniture visit http://www.affordableseating.net or call a customer service representative at (888) 495-8884.
Giovanni's Pizza Power is located at 1200 N. High St in Hillsboro, OH. They can be contacted at: (937) 402-4323.