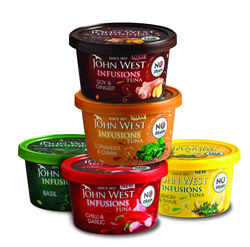 five gourmet friendly Infusions products
(PRWEB UK) 24 June 2014
The new varieties are Soy & Ginger, Lemon & Thyme and Coriander & Cumin, which join the already available Basil and Chilli & Garlic flavours to create a total of five gourmet friendly Infusions products.
Comprising of succulent tuna in extra virgin oil infused with carefully selected herbs and spices, the Infusions range was launched last year and has already become a firm favourite. To meet the demand for more taste sensations within the range, John West have now added three further flavours: Soy & Ginger with a taste of the Orient, Lemon & Thyme with a light and zesty flavour and Coriander & Cumin with its tantalising spices.
In order for these new taste sensations to reach the widest market, John West are currently offering 50p off all five flavours of new Infusions. To print a coupon simply log onto http://www.john-west.co.uk/trawler-fun/infusions-coupon. The coupon can be redeemed in all major retailers.
All five intense flavour Infusions products are seen by John West as the perfect ingredient for any recipe, from a stir-fry to a salad. An easy way to transform a simple fish dish into something much more exciting and adventurous. For added convenience and less mess, the entire range is available in handy, resealable No Drain packs.
For more information on John West Infusions Tuna, coupons and recipes, visit http://www.john-west.co.uk.