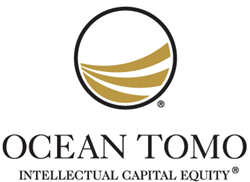 Ocean Tomo has advised in over 750 engagements involving IP in excess of $10 billion, including over 250 valuations.
Chicago, IL (PRWEB) June 23, 2014
Ocean Tomo, LLC, the intellectual capital merchant banc™ firm, announced today the Ocean Tomo Patent Transactions Portal, a searchable database designed to facilitate discovery of United States Patent and Trademark Office (USPTO) patent assignments. According to Dr. Matthew Beers, PhD, the system architect and Chief Technology Officer for Ocean Tomo, "The system is updated weekly allowing users to search the most recent changes in patent assignment amongst all parties."
Ocean Tomo is pleased to announce their return to the Intellectual Property (IP) transactions market place by welcoming Managing Director James Trueman, previously from Acacia Research Group (Acacia), to oversee the re-launch of the firm's efforts for IP private sales, private auctions and private acquisitions. Trueman joins having spent seven years at Acacia where he drove acquisitions across a wide variety of high-value technology areas.
"Having evaluated the monetization potential of several thousand patent portfolios, I have developed a keen ability to efficiently identify and transact quality patents with a broad range of market value," said Trueman writing for the Ocean Tomo Insights Blog.
Ocean Tomo also welcomes Dr. Daniel Vandervelde, PhD, as a Director in the Ocean Tomo Transactions practice responsible for both buy-side and sell-side client advisory as well as portfolio diligence. Vandervelde joins Ocean Tomo from Intellectual Ventures (IV), where he had line responsibility for licensing product development, market strategy, portfolio management, valuation, acquisition, and technology assessment.
Ocean Tomo CEO, James E. Malackowski, commenting during a firm sponsored Town Hall Meeting on the IP market last week noted that "the industry has undergone significant legal, business and political transformation since Ocean Tomo sold our pioneering intellectual property auction and brokerage business to ICAP in June 2009; we feel that the timing is again right for broader participation in the IP transactions market."
Ocean Tomo has advised in over 750 engagements involving IP in excess of $10 billion, including over 250 valuations, and worked as a trusted advisor involving the biggest IP transaction in history.
In response to feedback from the IP community at several town hall meetings, Ocean Tomo created the live public open cry intellectual property auction marketplace in April 2006 with a commitment to hold such events for a period of three years. The first auction featured 78 patent lots and was immediately recognized as a "forum of commerce". Over the three years that followed, the Ocean Tomo auction marketplace became an industry leading venue for patent transactions and price discovery. In 2009, Ocean Tomo sold this practice and focused its attention on creating a traded exchange for patent rights, the Intellectual Property Exchange International (IPXI). Today, Ocean Tomo is once again holding large and small town hall meetings seeking industry input regarding desires for a next generation transparent patent marketplace. Input or cooperative interest is welcome and should be sent to NewMarkets(at)OceanTomo(dot)com.
About Ocean Tomo, LLC
Established in 2003, Ocean Tomo, LLC, is the Intellectual Capital Merchant Banc™ firm providing an industry leading array of financial products and services related to intangible assets. Ocean Tomo offerings include expert testimony, valuation, strategy, research, ratings, investments, risk management, venture development and transactions. Ocean Tomo assists clients – corporations, law firms, governments and institutional investors – in realizing Intellectual Capital Equity® value broadly defined.
Headquartered in Chicago, Ocean Tomo has offices in Greenwich, Houston and San Francisco. Subsidiaries of Ocean Tomo include: Ocean Tomo Risk Management, LLC; Ocean Tomo Asset Management, LLC; OTI Data Networks, LLC; Patent Marking, LLC; and Ocean Tomo Capital, LLC – publisher of the Ocean Tomo 300® Patent Index family. Ocean Tomo is the founder of the Intellectual Property Exchange International (IPXI), Inc. creator of the live public open cry auction marketplace for intellectual property as well as the exclusive source for Ocean Tomo Ratings™.