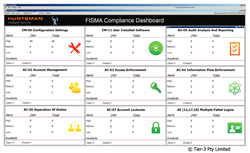 Huntsman® now provides unbeatable capabilities to meet the audit and logging requirements of the NIST standard.
(PRWEB) June 24, 2014
Huntsman® is widely used in compliance-driven environments such as defense, government and public sector networks in many countries. The inclusion of the compliance pack that meets the requirements of US legislation and standards is key for the US market.
The Huntsman® FISMA compliance pack includes a set of pre-defined real-time alerts and an extensive library of queries/reports that map to specific control areas. In addition, the continuously updated compliance monitoring dashboard displays the status of alerts that relate to those controls. For more information see the Tier-3 FISMA web page.
Huntsman® supports an extensive array of security controls, system and platform event logs, machine-data sources and asset and vulnerability feeds. It integrates closely with other best-of-breed cyber security solutions to provide operators with real-time actionable intelligence for incident identification and response.
Chris Warner, Tier-3's Head of North America, said, "The Federal FISMA standards are now widely used across government, federal agencies, contractors and also in a range of Federal funded organizations. Huntsman® now provides unbeatable capabilities to meet the audit and logging requirements of the NIST standard and to gain valuable insight into control status, compliance alerts and the rising tide of cyber security attacks."
About Tier-3
Tier-3 pioneered intelligent enterprise and cyber security with its landmark platform, Huntsman® Intelligent Enterprise Security, incorporating Behavior Anomaly Detection (BAD). Tier-3 patented key aspects of BAD, which detect anomalies in real time and so provide early warning of cyber threat, data leakage, malware or fraud. Huntsman has been deployed in critical environments in government, finance and infrastructure in the UK, Japan and Australia.
--- END ---
References
"The total number of reported computer security incidents impacting the Federal Government increased by approximately 26% from FY 2012, while the number of reported incidents from all sectors combined increased by approximately 43% for the same period." - OMB Annual Report to Congress on FISMA, May 1 2014. See http://www.whitehouse.gov/sites/default/files/omb/assets/ego.