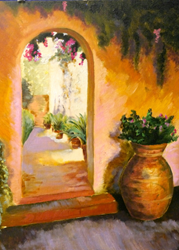 "Northern Dutchess has long had a reputation as a haven for artists, and Art Studio Views is a prime example of a community-focused event that helps strengthen the arts in our neighborhoods"-Rosemary Bertelle, Vice President of Marketing, Rhinebeck Bank
Rhinebeck, NY (PRWEB) June 24, 2014
More than 300 people are expected to visit some or all of the private studios of 19 artists in Northern Dutchess County for the seventh annual Art Studios Tour, scheduled for Labor Day weekend. The studios will be open to the public at no cost on Saturday, August 30 and Sunday, August 31 from 11am-5pm each day. Artists will be available at each location to answer questions and discuss work on display.
The very rare opportunity to view paintings, sculpture, photography, ceramics, jewelry and other artistic creations in the private studios of local artists through a self-directed tour, will take tourists from all over the country, as well as local art aficionados, through the hamlets and towns of Northern Dutchess County. Visitors can pick up maps at one of the three Art Studio Views headquarter locations: Betsy Jacaruso Studio & Gallery, 43-2 East Market Street, Rhinebeck; Red Hook Community Arts Network, 7516 N. Broadway, Red Hook; or the Artists' Collective of Hyde Park, 4338 Albany Post Road, Hyde Park.
"Our seventh year will unquestionably be sensational. Our artists will be unveiling pieces never before shared with the public. The tour allows artists to invite neighbors, friends, and complete strangers to share in their artistic journey. It is an extraordinary opportunity to gain greater insight into the creative process that each artist experiences, and allows all of us a chance to gain a greater appreciation for their work," says Joanna Hess, director of Art Studio Views.
Rhinebeck Bank has underwritten the event since the inception of Art Studio Views, and has announced its return as the presenting sponsor. "Northern Dutchess has long had a reputation as a haven for artists, and Art Studio Views is a prime example of a community focused event that helps strengthen the arts in our neighborhoods," says Rosemary Bertelle, Vice President of Marketing for Rhinebeck Bank, presenting sponsor of the event. "The level of artistry is impressive, and the Bank is proud to be hosting this exhibit which will be highlighting each artist's work from Mid-August through the end of September at our Atrium Gallery in Rhinebeck."
A kickoff reception for Art Studio Views 2014 will take place on Thursday, August 14th at the Rhinebeck Bank Atrium Gallery on Montgomery Street in Rhinebeck from 5:30-7pm. The reception will provide a preview of the work to be exhibited on the studio tour over Labor Day weekend.
MaryKay Vrba, executive director of Dutchess County Tourism, says, "events like Art Studio Views help promote our region as a center for art and culture; we are very grateful to the artists for sharing themselves, and their private spaces, in this way – it allows us to showcase the amazing people and character of our local community; it is truly wonderful for everyone who gets a chance to experience it."
In addition to the presenting sponsor Rhinebeck Bank, other sponsors include The Gardens at Rhinebeck, Vicki L. Haak, CFP, Ameriprise Financial Services, and Cale Communications.
For more information, call 845.758.0335.