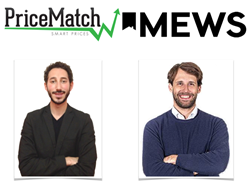 One contract, one login and one Account Manager for both PMS and RMS.
(PRWEB) June 23, 2014
"Our partnership with PriceMatch adds another exciting feature to our innovative product offering. Every Mews hotelier will now be better able to manage their rate strategies through a single dashboard, making sure an opportunity to maximise revenue is never missed."
Richard Valtr Mews' Director
"PriceMatch and Mews share a common DNA: young and disruptive, we are both user-friendly platforms designed to relieve hoteliers from sometimes tedious job. And this is what we're meant to do: provide hoteliers the most advanced tool to offer them the easiest and most effective Revenue Management strategy."
Jeremy Bellaiche PriceMatch's Partnership Manager
For more information:
Mews System - http://mewssystems.com/
PriceMatch - https://www.pricematch.travel/en/