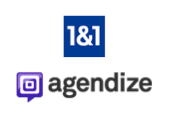 We've chosen the Agendize applications in order to offer simple and effective engagement tools to our 13 million customers
New York, NY (PRWEB) June 24, 2014
Cloud demand in Germany is increasing steadily. According to a recent Techconsult study, the number of companies planning to use cloud solutions grew from 8% to 24% between 2012 and 2013. Agendize has positioned itself to capture this growth in the online conversion sector by establishing a foothold in Germany through partnership with 1&1, a leading local website builder.
The 1&1 website building platform is equipped with applications that businesses can easily install on their website. Since October 2013, 1&1 has included the Agendize tools in their app library, allowing their customers capture more business with applications like Online Scheduling, Click-to-Call and Live Chat.
"We've chosen the Agendize applications in order to offer simple and effective engagement tools to our 13 million customers. They can now generate meaningful interactions and answer their customer inquiries live, which allows them to strengthen customer service and boost sales," said Cécile Esch, 1&1 PR Manager.
Agendize is already available in 5 languages - French, English, Spanish, Portuguese and Japanese. Coinciding with Agendize's presence at the [vdav]-Branchentreff 2014 conference, the company releases its platform in German, for the benefit of over 100 million German speakers.
For more information on Agendize, visit: http://www.agendize.com/
Press Contact:
Raphaël Iscar
Digital Communication Manager
+1 514 550 4090
About Agendize
Agendize is the only one-stop-shop of engagement and conversion tools on the market. By generating meaningful interaction, engagement tools turn online visitors into customers. The Agendize platform includes: Online Scheduling, Click to Call, Live Chat, Form Builder, Save & Share, and Call Tracking - with integrated CRM and Analytics functionalities. Over 100,000 businesses worldwide use Agendize to generate more leads and improve customer service. Agendize tools are distributed as a white-label solution by some of the largest digital players.