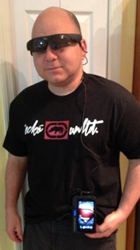 'The CheckMates have given me back a measure of the freedom I lost when I lost my vision,' says Arbitman who has been blind now for seven years.
Ft. Lauderdale, FL (PRWEB) June 26, 2014
Echo-Sense, Inc. has recently introduced a fascinating product designed to allow family members, friends and colleagues of people who are blind and visually impaired to offer assistance in a wide variety of activities from reading and shopping to travel in airports, malls and unfamiliar situations.
This product comes in the form of a pair of electronic glasses attached to a custom charging system and phone holster which can be linked to a PC or Smartphone to provide live streaming audio and video. When the wearer of the glasses connects in this manner to another computer, the sighted person using the computer gets a view of the world from the wearer's point of view. This setup allows the sighted person to guide the person who is blind or visually impaired.
Dr. Michael Arbitman, of imUNEEK, believes that the Echo-Sense CheckMates glasses have offered to him vastly improved quality of life. He has found the CheckMates very helpful in a wide variety of situations.
When he is wearing the CheckMates, his wife is able to read newspaper articles and the labels of his prescription medications. She can also help him to identify money when he is out shopping; having someone you can trust help to identify your currency is a definite plus.
"The CheckMates have given me back a measure of the freedom I lost when I lost my vision," says Arbitman who has been blind now for seven years.
Arbitman has also found the glasses very helpful in the following situations. One day, he was getting ready for an event and he wanted to be color coordinated with the members of his team. He connected the CheckMates to one of his team members who helped Arbitman find the tie that was the best match for those being worn by his colleagues. On another occasion, he was setting up his surround sound and video system and became frustrated because he couldn't get things to work properly. He whipped out his CheckMates and connected with his best friend Eddie who walked Dr. Arbitman through the setup of the Onkyo receiver with his Bose system. "I'm totally blind myself and often take on similar tasks in my home. I can think of a few occasions similar to connecting a surround sound system where the CheckMates would have really come in handy."
Arbitman tried an especially fascinating experiment on a day when his creative juices must have been really flowing. He decided to try driving a car. He got behind the wheel and his wife was seated in the passenger seat by his side. She was able to direct him as he drove the car; don't worry. He was just driving around a parking lot. Arbitman is so confident and comfortable with the glasses that he has carried his young child while being guided by his wife on shopping expeditions in a busy mall. Finally, Arbitman has used the CheckMates to find things on the ground such as the delivered newspaper and has discovered things like flat tires with the glasses.
The CheckMates offer the wearer an added sense of security when out and about. This would be especially helpful for those new to vision loss. As they adjust to independent travel, they can get assistance from those they trust. This would help increase their confidence and thus their independence.
Florida Reading & Vision Technology will be featuring the Echo-Sense CheckMates Glasses at the upcoming National Federation of the Blind National Conference in Orlando, FL, July 2-5, 2014.
About Florida Reading & Vision Technology Inc.
According to the World Health Organization, there are approximately 285 million people in the world who are visually impaired, of whom 39 million are blind. Florida Reading & Vision Technology, Inc. (FRAVTI) is committed to offering safe and dependable products to those seeking greater independence. Founded in 2000 by Lesa Kretschmer, Fort Lauderdale, Florida based FRAVTI offers more than 800 products and tools that help those who are blind or visually impaired meet the needs of the broader public.
CheckMates – EchoSense™ Network Glasses are now available through Florida Reading and Vision Technology located at 650 N. Andrews Avenue, Ft. Lauderdale, FL 33311 or by ordering online at http://www.floridareading.com/echosense-checkmates.html. For more information please call 800-981-5119.