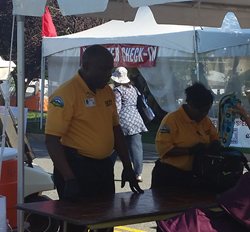 "We are honored to have been chosen as the trusted security partner for the second year in a row."
Manassas, VA (PRWEB) June 24, 2014
New Horizon Security Services, Inc., a privately-owned security services firm headquartered in Manassas, VA, specializing in armed and unarmed security officers in the Mid-Atlantic region, provided professional security services to the 2014 Celebrate Fairfax! event, an annual three-day fair that draws tens of thousands of visitors.
New Horizon Security provided a team of 65 security officers to secure all access to the fair and perform bag checks and concert security. "We are honored to have been chosen as the trusted security partner for the second year in a row," said John "J.J." Frazer, President and CEO of New Horizon Security.
New Horizon brought together a team of highly-skilled security officers from across the region that typically work at other government, education and commercial locations. "New Horizon's staff performed their duties with the utmost competency, professionalism and enthusiasm making our job easy," said Second Lieutenant S.A. Talbot, Fairfax County Sheriff's Office.
New Horizon Security established a command post to support operations throughout the weekend that featured a full size RV to host strategy and coordination meetings and provide officers with a place to cool down and eat. Guapos Catering provided meals to the security staff all three days. "We appreciate Guapos providing meals for us again this year," added JJ. "It is incredibly helpful to the security team not to have to worry about meals before, during or after shifts."
About New Horizon Security Services, Inc.
New Horizon Security specializes in providing high-quality armed and unarmed security officers throughout the Mid-Atlantic region in support of local and state government agencies, private businesses, commercial and retail properties, construction sites, residential communities, education facilities, and public service buildings. New Horizon Security also operates a certified training academy to train unarmed and armed security officers for the field. This training academy is open to the public as well. New Horizon Security is headquartered in Manassas, VA with satellite branches in Richmond, Tidewater, Newport News, Roanoke, and Danville, VA. The company also has an office in Raleigh, NC. To learn more about New Horizon Security, please visit the New Horizon Security Services, Inc. website at http://www.newhorizonsecurity.com.