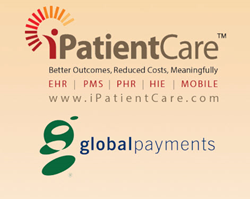 Integrating our payment technologies into iPatientCare PMS will offer a better patient experience, streamlined operations and improved revenues for medical practices, said Eddie Myers, President of the Global Payments Integrated Solutions division.
Woodbridge, NJ (PRWEB) June 24, 2014
iPatientCare, Inc., a pioneer in mHealth and cloud based ambulatory EHR, Integrated Practice Management and Patient Portal Solutions, announced that its PMS has been successfully integrated with Global Payments, one of the largest worldwide providers of payment solutions, to provide a fully integrated patient payment solution. It integrates every step of the healthcare payments process in one place, allowing providers to collect more patient payments, get paid faster and reduce the collection time and costs.
The iPatientCare and Global Payments integration enables physician practices to accept credit and debit card payments effortlessly. Global Payments' Integrated Solutions group offers one of the leading integrated payment processing solutions in the healthcare vertical. Global Payments' Integrated Solutions Decline Minimizer is a completely automated card updating service, which significantly reduces the impact of declined transactions to improve cash flow and streamline operations. Practices relying on recurring payments will benefit greatly from the Decline Minimizer service integrated with iPatientCare PMS.
"We're pleased to bring our experience in the medical billing space to iPatientCare, solving tomorrow's technology needs today while expanding channel distribution into additional vertical markets," commented Eddie Myers, President of the Global Payments Integrated Solutions division. "Integrating our payment technologies – including the Decline Minimizer solution for reducing declined recurring transactions – into the iPatientCare medical practice management and billing system will offer a better patient experience while streamlining operations and improving revenues for medical practices."
"We are very excited to offer our new Patient Payment Solution to our clients," said Vipul Patel, Senior Technology Officer, iPatientCare. "It is designed to improve practice collections and ensures convenience to patients in making payments. Physicians' offices using the new capabilities in the iPatientCare software will benefit from the expedited patient payments, reduced bad debts and lower collection expenses," he further added.
About iPatientCare
iPatientCare, Inc. is a privately held medical informatics company based at Woodbridge, New Jersey. The company is known for its pioneering contribution to mHealth and Cloud based unified product suite that include Electronic Health/Medical Record and integrated Practice Management/Billing System, Patient Portal/PHR, Health Information Exchange (HIE), and mobile point-of-care solutions that serve the ambulatory, acute/sub acute, emergency and home health market segments.
iPatientCare EHR 2014 (2.0) has received 2014 Edition Ambulatory Complete EHR certification by ICSA Labs, an Office of the National Coordinator-Authorized Certification Body (ONC-ACB), in accordance with the applicable eligible professional certification criteria adopted by the Secretary of Health and Human Services (HHS).
Full certification details can be found at ONC Certified Health IT Product List.
The ONC 2014 Edition criteria support both Stage 1 and 2 Meaningful Use measures required to qualify eligible providers and hospitals for funding under the American Recovery and Reinvestment Act (ARRA).
iPatientCare's ONC 2014 Edition Meaningful Use Stage 2 Certified Complete EHR is also Designated as a Test EHR by CMS.
The company has won numerous awards for its EHR technology and is recognized as an innovator in the field, being a pioneer to offer an EHR technology on a handheld device, an innovative First Responder technology to the US Army for its Theatre Medical Information System, the first to offer a Cloud based EHR product. iPatientCare is recognized as one of the best EHR and Integrated PM System for small and medium sized physicians' offices; has been awarded most number of industry Awards; and has been recognized as a preferred/MU partner by numerous Regional Extension Centers (REC), hospitals/health systems, and academies.
Visit http://www.iPatientCare.com for more information.
About Global Payments
Global Payments Inc. is one of the largest worldwide providers of payment solutions for merchants, value added resellers, enterprise software providers, financial institutions, government agencies, multi-national corporations and independent sales organizations located throughout North America, South America, Europe and the Asia-Pacific region. Global Payments, a Fortune 1000 company, offers a comprehensive line of solutions and services for credit and debit cards, business-to-business purchasing cards, gift cards, electronic check conversion and check guarantee, verification and recovery including electronic check services, as well as terminal management. Visit http://www.globalpaymentsinc.com for more information about the company and its services.
Vipul Patel
iPatientCare, Inc.
800-741-0981 |
info(at)ipatientcare(dot)com
Amy Corn
Global Payments Inc.
770.829.8755
Media.relations(at)globalpay(dot)com